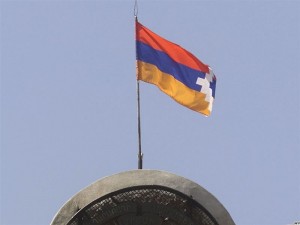 STEPANAKERT — Possible peace agreements reached by Armenia and Azerbaijan could not be put into practice without being approved by Nagorno-Karabakh's leadership, a senior official in Stepanakert warned on Tuesday.
Georgi Petrosian, foreign minister of the Republic (NKR), also declined to comment on chances of a breakthrough at this week's Armenian-Azerbaijani summit in Kazan, Russia. "We are in a wait-and-see regime," he said.
International mediators hope that Presidents Serzh Sarkisian and Ilham Aliyev will finalize the basic principles of resolving the Karabakh conflict at that meeting.
Petrosian did not specify the NKR leadership's position on those principles put forward by the U.S., Russian and French co-chairs of the OSCE Minsk Group. Nor would he say how the Karabakh Armenians will react if Aliyev and Sarkisian cut a deal not acceptable to them.
Petrosian said only that the territory should have the final say on any peace accord. "One can destroy us, but one can't make decisions without us," he told journalists. "In the latter case, one must say, 'We are ready to destroy you.' But one must say it openly."
"International documents concerning Karabakh say that the Nagorno-Karabakh Republic is a party to the conflict. If we, being such a party, were able to stop the war and sign a truce [in 1994,] then we also have the right to build our future, a peaceful future," he added.
Armenian Foreign Minister Edward Nalbandian likewise said last week that the framework accord pushed by the mediators would have to be approved by the Karabakh Armenians. "It will be impossible to switch to the second phase [of the peace process] if Karabakh doesn't agree to the basic principles," he said.