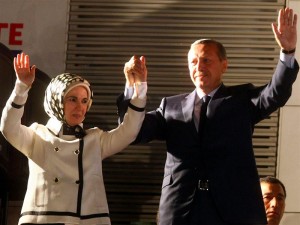 ANKARA — Recep Tayyip Erdogan has been cast in the dual role of consensus builder and Turkey's most successful modern prime minister after his ruling Justice and Development Party (AKP) won a third consecutive election landslide with nearly 50 percent of the vote.
The resounding victory margin saw the socially conservative AKP increase its vote share from its 2007 poll win by more than three points to 49.9 percent.
But rather than being more powerful than ever, the result leaves Erdogan short of the two-thirds parliamentary majority needed to unilaterally reshape Turkey's constitution, which was written after a military coup in 1980.
With 326 out of the national assembly's 550 seats — four fewer than it gained in 2007 — the AKP is also five short of what it would need to call a referendum for a new constitution.
The prime minister is widely believed to have been planning to create a presidential system in which he would be elected president, cementing his already formidable power.
The main opposition party, the avowedly secular Republican People's Party, raised its showing to 26 percent — its best result in 30 years — under a new leader, Kemal Kilicdaroglu.
The right-wing Nationalist Action Party (MHP) received 13 percent of the votes.
The pro-Kurdish Peace and Democracy Party (BDP) also succeeded in winning 36 seats by fielding its candidates as independents — a move aimed at overcoming Turkey's parliamentary-threshold rule that prevents any party with less than 10 percent of the national vote gaining seats in the national assembly.
Turnout among Turkey's 52 million registered voters was about 86 percent.
Two historians, who staunch deniers of the Armenian Genocide, gained seats in the Turkish parliament.
One of them is a candidate from ruling Justice and Development Party Seyit Sertcelik, an author of a book about Genocide denial. He is the only Turkish historian who masters Armenian.
Another historian who entered the parliament and is famous for his anti-Armenian stance, Yusuf Halacoglu was nominated by Nationalist Movement Party.
Halacoglu, former head of Turkish Historical Society, recently claimed he was fired at the request of Armenia and U.S.
No Armenian candidate was nominated by Turkish parties.