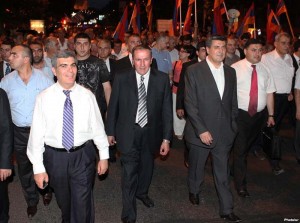 YEREVAN — Opposition supporters have rallied in Armenia's capital Yerevan, vowing to push President Serzh Sarkisian out of office unless he calls early elections.
Levon Ter-Petrosian, the leader of the Armenian National Congress opposition bloc and the country's former president, told the rally, "We give the authorities a two-month deadline" to meet their demands.
Ter-Petrosian at the same time assured several thousand supporters rallying in Yerevan's Liberty Square that Sarkisian will soon agree to the format of a dialogue favored by the HAK. "I think that is a temporary uncertainty that will be overcome soon," he said.
Ter-Petrosian also insisted on HAK demands for the holding of fresh presidential and parliamentary elections. Sarkisian and his coalition have categorically ruled out such possibility.
"No matter how much our authorities persist and try to stall for time, they will sooner or later be forced to hold pre-term elections," claimed Ter-Petrosian.
"Or else, what we call a reasonable time frame will be deemed expired at the beginning of September and only one issue will remain on our agenda: not pre-term elections but the unconditional resignation of Serzh Sarkisian and the ruling coalition," he warned without elaborating.
Ter-Petrosian also said that the Congress will focus on the disclosure of the 1, 2 March 2008 killings in its dialogue with the authorities.
"We will focus our attention on the disclosure of the 1 March events," said he, adding that some progress is observed in that process.
"The international community requires not the revelation of the 1 March events, but rather the revelation of the ten killings with all their consequences," explained Ter-Petrosian.
Further, he said that the law-enforcement bodies must find out the identities of those responsible for those killings and hold them accountable.
He also said that if a police officer is interrogated, he should be asked to give the name of the person who instructed him then.
"[Then] you interrogate the one who gave orders, and he in his turn gives the name of the person he was ordered by and this way we reach Serzh Sarkisian and Robert Kocharian," said Levon Ter-Petrosian.