Yvette Mancilla
(Hye Sharzhoom)
A historical epic seven years in the making about the Armenian Genocide will make its Central Valley debut at the 2015 Fresno Film Festival.
"The Cut" will screen at 3 p.m. on Saturday, Nov. 14 at the historic Tower Theatre, as part of the Nov. 13-15 Festival, which celebrates independent voices in cinema.
Beginning in Armenia in 1915, "The Cut" follows one man's journey through the Ottoman Empire after surviving the Genocide. Nazaret (Tahar Rahim), a young blacksmith from Mardin, Turkey, is ripped from his family and is forced to work as a slave laborer. Years later, he begins a continent-crossing quest to reunite with his twin daughters.
Turkish-German filmmaker Fatih Akin directed and co-wrote the film with Armenian-American screenwriter Mardik Martin. Martin—best known for writing the Martin Scorsese films "Raging Bull," "New York, New York" and "Mean Streets"—will make a special appearance to discuss the film, presented by Fresno Filmworks and co-sponsored by the Armenian Studies Program at Fresno State.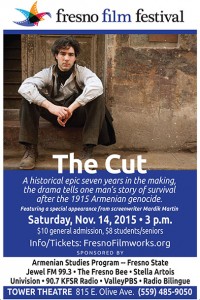 With few films touching on the genocide, let alone depicting it, Martin said in a news release: "A story about survivors of the Armenian Genocide is a sensitive subject to tackle. I never imagined anyone would have the courage to do it. Fatih has that courage. … I can only hope that the audience is able to delve into the feel of the era and its turbulence and upheaval. For me as an Armenian, this is an incredible adventure movie."
With a large Armenian community in the Central Valley, Fresno Filmworks president Jefferson Beavers reiterated the importance of the screening.
"In this 100th anniversary year of the Genocide, I cannot think of a more culturally relevant or historically important film we could possibly show," Beavers said. "It's an honor and our duty, not just to our Armenian brothers and sisters, but to our entire community, to show this movie in Fresno."
"It is wonderful that such an important film is being screened in Fresno. The Armenian Studies Program is please to be a co-sponsor. The film is especially timely and I think it will be well received in the community," said Armenian Studies Program Coordinator Barlow Der Mugrdechian.
Dr. Sergio La Porta, Berberian Professor of Armenian Studies at Fresno State, said it can also be seen as a reflection of positive change within the Turkish community of artists and intellectuals.
"The idea that you have Armenian and Turkish people working together on this film—I think is a wonderful way in which art can bring two communities that have this historic injustice standing between them to bring them closer together to a point of mutual understanding," La Porta said. "It's especially great to have a Turkish director to be involved in this."
Visit FresnoFilmworks.org for details on the showing of the film and to buy tickets.