By Charles Recknagel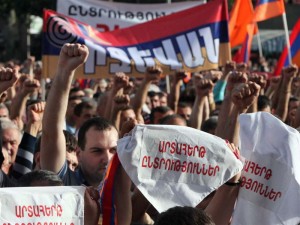 What is happening in Armenia these days is what opposition parties in most former Soviet republics dare not even dream about.
On May 31, the country's most prominent opposition leader, Levon Ter-Petrossian, told a crowd of tens of thousands of supporters in Yerevan's main Liberty Square that the government had conceded to the opposition's pre-conditions for talks.
Those pre-conditions read like a laundry list of what embattled opposition movements usually never get.
They include the release of all jailed political opponents of the government, the right to hold protests in the capital's main square, a new investigation into the deaths of protesters who challenged the country's last presidential election as rigged.
As Ter-Petrossian, head of the opposition Armenian National Congress, told supporters on May 31, that clears the way for negotiations over other key demands such as holding early elections.
"The agenda of the [Armenian National Congress] is known — that is, holding early presidential and parliamentary elections. …But it doesn't mean that we should not take into account — I don't say accept, I say take into account — the agenda and counterarguments presented by the authorities."
On May 27, Yerevan granted an amnesty to jailed political opponents that ultimately will set 400 people free. Already, the country's two most prominent jailed opposition figures, both loyalists of Ter-Petrossian, have returned home, vowing to continue their work.
Why did the government of President Serzh Sarkisian, whom critics have long accused of stealing the country's 2008 election, suddenly open the door to talks?
According to the opposition, it was purely to avoid an "Armenian Spring," or the kind of people's protest now shaking the Middle East and North Africa. Since February, Ter-Petrossian has held five rallies as he warned the government to hold early elections or risk "Mubarakization" — that is, being toppled by the crowds.
The biggest of the rallies, on March 1, brought tens of thousands of people into Liberty Square for the third anniversary of the violent crackdown on Ter-Petrossian's supporters when they protested his defeat in the 2008 presidential election. Ten people died as a result of the violence during the night of March 1-2, 2008.
But if the March 1 rally was big, it is unclear how many people came out to honor the memory of those killed in the crackdown and how many came out to support Ter-Petrossian himself. The other rallies gathered fewer supporters, suggesting that Ter-Petrossian's threats to topple the government with street power were still far from attainable.
The Right Thing To Do
That lack of momentum, plus Ter-Petrossian's own calls for the crowds to go home after the rallies rather than begin a Tahrir Square-style sit-in, leaves plenty of room to look for other factors that could have contributed to the reset in Armenian politics.
Sarkisian himself, for example, said on May 28 it was simply the right thing to do.
"The interests and rights of individuals are as sacred as the collective national interest," he said. "A strong army is good, but an army of strong, free, and protected citizens is much better. The free citizen is the most reliable shield against both foreign enemies and domestic unlawfulness."
But there are indications that many other things were also going on behind the scenes that could help explain why Sarkisian opted to bargain with Ter-Petrossian now.
One is the presence of a third person that both Sarkisian and Ter-Petrossian, as well as many others in Armenia's political circles, fear. That person is former President Robert Kocharian, Armenia's second president from 1998 to 2008 and a man who still wields immense economic power thanks to the many businesses he created while in office.
Neither Sarkisian, who succeeded Kocharian in office, nor Ter-Petrossian, who was Armenia's first president from 1991 to 1998, want to see him return to the political arena. They both charge Kocharian with putting the country through a cycle of economic instability and consider him to be too much of an admirer of Russian Prime Minister Vladimir Putin.
But if both Sarkisan and Ter-Petrossian share common enemies, they also share common friends, and that, too, may be a reason for opening the door to dialogue between them. The common friends are Washington and the European Union, and both have pressed hard over recent months for Armenia's government and opposition to engage.
The U.S. ambassador to Armenia, Marie Yovanovitch, is known to have met frequently with both sides since beginning her duties in Yerevan in 2008. Yovanovitch will be promoted to U.S. deputy assistant secretary of state for Northern and Central Europe when she leaves Armenia this month.
No Role For U.S. Government
Yovanovitch repeatedly urged the government to make reforms and free political activists but said it was up to the Armenians to reach the terms themselves.
"If in fact the internal political process in Armenia were less tense, that is something that we would only applaud," she told RFE/RL's Armenian Service on March 23. "But I'd also say that how the internal political process in Armenia works, discussions between various factions, parties or actors, I think that's something for Armenians to work out among themselves. I don't think there is really a role there for the U.S. government."
U.S. Secretary of State Hillary Clinton, as well as other top State Department officials, also publicly and repeatedly urged Sarkisian to reach out to the opposition whenever he visited Washington.
And in a sign that the European Union has equally been pressing for change, Brussels was among the first to praise Yerevan's declaration of an amnesty on May 27.
"As far as we understand, this will allow Armenia to turn the page of the March 2008 events, together with a new impetus given to the investigation of those events," Raul de Luzenberger, head of the EU delegation in Yerevan, told RFE/RL's Armenian Service.
Harry Tamrazian, director of RFE/RL's Armenian Service, says that a new feeling of optimism is now visible in Armenia's political circles.
"It's a new level of political culture when the opposition that was calling for regime change and the government which was putting opposition figures in jail are now talking about the need for dialogue and having a free-and-fair national election," Tamrazian said.
But he says the hard part still lies ahead.
"For these changes to become permanent, however, we still need democratic institutions, like an independent judiciary," he said. "And as we get closer to elections, the question will be whether optimism is enough to overcome pragmatic political jockeying among the parties. But for now, the freeing of political prisoners from jails and the unprecedented readiness from all sides to start a dialogue has a very healing effect on Armenian politics in general."
Reasons For Detente
Some of the immediate open questions are whether Ter-Petrossian will maintain his demands for early elections and keep trying to ratchet up street pressure. Equally, there are questions of how Sarkisian would react if he does.
The next parliamentary election is May 2012 and the next presidential election in 2013.
Still, Armenia may face enough challenges in the months ahead that both the government and opposition will have good reasons to keep their detente in place.
One is Armenia's weak economy and the knowledge on all sides that a prolonged cycle of street protests and political feuding could plunge the country into economic uncertainty.
Another is Nagorno-Karabakh and stepped-up international pressure upon both Yerevan and Baku to make progress on solving their intractable dispute. The pressure provides strong motivation for all camps in Yerevan to close ranks.
At the G8 summit in Deauville, France, the U.S., French, and Russian presidents jointly urged Azerbaijan and Armenia "to demonstrate political will and finalize…the basic principles [of a peace agreement] during the forthcoming summit in June" in Kazan, Russia. "Further delay would only call into question the commitment of the sides to reach an agreement," they said.
Will such outside pressure to work together, combined with the internal mutual interests, be enough to create its own kind of "Armenian Spring" in which Sarkisian and Ter-Petrossian work together constructively?
The question cannot be answered immediately and perhaps it doesn't need to be. Just getting this far is enough to give a welcome shot of confidence to Armenia's political process. And gaining confidence is a big part of turning surprise changes of fortune into lasting ones.
RFE/RL's Armenian Service contributed to this report