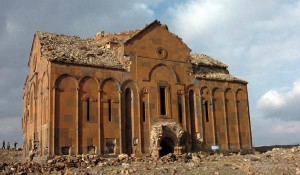 ANKARA — Turkey has launched a project to conserve an ancient Armenian cathedral and a church in what is seen as a gesture of reconciliation toward neighboring Armenia, writes Turkish Today's Zaman.
According to Culture Minister Ertugrul Gunay the new project was being launched in partnership with the World Monuments Fund to conserve the remains of the cathedral and the Church of the Holy Savior in Ani, 25 miles (40 kilometers) from the eastern Turkish city of Kars.
"Ani, which is of global significance, presents particularly complicated challenges," Günay said. "We hope that giving new life to the remains of once-splendid buildings, such as the Ani Cathedral and church, will bring new economic opportunities to the region."
The New York-based World Monuments Fund states that Ani is "one of the world's great cities in the 10th century", it was once the site of hundreds of religious buildings, palaces, fortifications, and other structures. Today it stands abandoned, and the remnants of its celebrated buildings are in a precarious state.
The area was long off-limits in a militarized area, which has been gradually demilitarized since the collapse of the Soviet Union. Today, it attracts tourists from around the world.
The new conservation work will primarily aim to strengthen the Ani Cathedral and the Church of the Holy Savior against temblors, said Bonnie Burnham, the president of WMF.
The cathedral, designed by King Trdat – the chief architect of the Bagratuni kingdome of Armenia – is considered to be a masterpiece of medieval Armenian architecture.