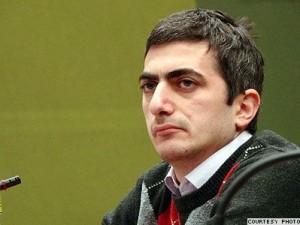 The leader of Moldova's breakaway Transdniester region has unexpectedly pardoned an Armenian-born journalist who was controversially arrested and imprisoned last year.
Ernest Vardanean was sentenced by a local court last December to 15 years in prison on charges of spying for Moldovan intelligence.
The case has prompted protests from the international community. European and U.S. officials have questioned the credibility of the charges leveled against the journalist.
Transdniester's Olivia news agency reported on Thursday that the self-proclaimed republic's president, Igor Smirnov, signed the pardon following a written appeal from Vardanean.
"Yesterday's events were very quick, very unexpected. My fate was decided within one hour," Vardanean told RFE/RL's Armenian service from his home in the region's capital Tiraspol.
"Prison guards came to me and said, 'Vardanean, get your stuff quickly. You're being released,'" he said.
The 31-year-old was working for "Novy Region," a Russian news agency critical of Transdniester's authorities, when he was arrested in April 2010 in Tiraspol. He was charged with high treason.
In May 2010, Transdniester's official television channel aired a videotape in which Vardanean confessed to spying for the Moldova's secret service. Officials in the Moldovan capital Chisinau and Vardanean's family said that the confession was probably made under extreme pressure.
Vardanean refused to confirm or deny that. "No comment," he told RFE/RL.
The journalist, who was born and raised in Armenia's second largest city of Gyumri, also said he does not know whether he will continue to live and work in Transdniester.