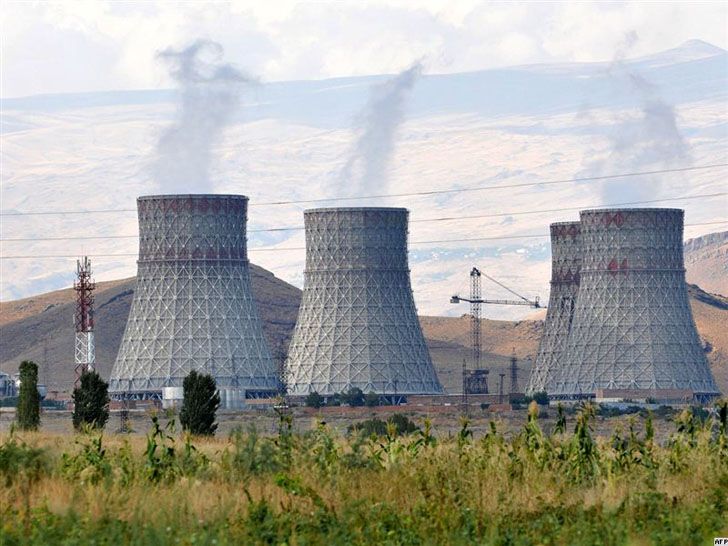 YEREVAN — The International Atomic Energy Agency (IAEA) began a two-week inspection of the nuclear power station at Metsamor on Monday amid renewed domestic and international concerns about its safety fueled by the recent nuclear disaster in Japan.
Armenia's Ministry of Energy and Natural Resource said a team of IAEA experts from nine countries will closely examine Metsamor's reactor and other facilities and assess their operational safety in a special report.
It said the inspection will be conducted under the Vienna-based nuclear watchdog's Operational Safety Review Team (OSART) program, which is designed to help countries guard against nuclear emergencies.
The Armenian NPP plant was built to withstand up to a 9-magnitude earthquake and at present, it meets the IAEA safety standards. However, in the wake of Japan's 2011 Fukushima nuclear crisis, the combination of the design and location of the Armenian NPP has been claimed to make it among the most dangerous nuclear plants in the world. The Fukushima disaster has caused EU member states to think of measures towards raising their nuclear safety standards to a higher level.
The Soviet-built Metsamor plant, which meets about 40 percent of Armenia's energy needs, has long prompted concerns from local environment protection groups and Western governments. The Fukushima disaster has cast a fresh spotlight on its safety, with senior European Union officials discussing the matter with Armenian leaders during recent visits to Yerevan.
Armenian government officials and nuclear experts say that Metsamor's reactor cooling system is different from Fukushima's and that the facility is reliable enough to withstand a powerful earthquake. Another argument advanced by them is that the plant has undergone numerous safety upgrades since one of its two reactors was reactivated in 1995.