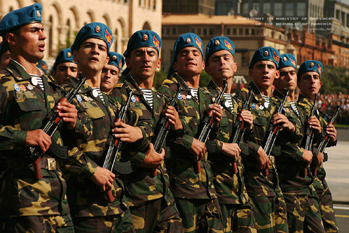 YEREVAN — The Armenian parliament approved on Monday government plans to raise the military draft age to 19 years because of changes in the national education system.
Male citizens of the country have until now been drafted to the Armenian Armed Forces at the age of 18. Young men enrolled in state-run universities are called up after graduation, while those deemed unfit for two-year compulsory military service on medical and other grounds are exempt from it altogether.
Over the past decade Armenia has gradually switched to a 12-year education cycle, replacing former system of 10-year schooling, that will produce first school graduates next year. This means that thousands of male students will turn 18 and be subject to the draft before passing graduation exams. Under existing legislation, they would also be unable to pursue higher education and qualify for service deferments.
The Armenian government believes that they should be able to finish high school before being drafted. Hence, its proposal to raise draft age by one year.
The National Assembly unanimously approved, in the first reading, a corresponding amendment to an Armenian law on military service. Its passage in the second and final reading appears a mere formality.