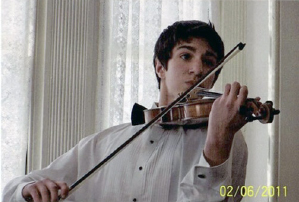 By Rev. Fr. V. Kalayjian,
Pastor Emertius
We were informed from time to time that young Arec has taken up studying violin. We even had the opportunity to attend a few of the concerts and competitions at which Arec was a participant.
Since the age of 8 he has gathered an impressive number of 1st prizes and scholarships and continued to study at the Levine School of Music, Washington, DC, that enabled him to perform with prestigious symphonies and symphonettes such as the Waterford Concert Series "Next Generation" Concert in Lucketts, VA. In some of the orchestras, Arec was seated as principal 2nd violin for Young Artists and Symphony. He has studied as part of Master Classes with world-renowned violinists: Vadim Repin, Jonathan Carney, and Igor Yuzenjovich. As part of his Levine School scholarship he was granted as a special priviledge the use of 1912 Joseph Gorretelli Grade 3 copy of Stradivarius.
On February 6, at the Glenview Mansion conservatory, within the historic Rockville Civic Center in Maryland, Arec made a solo appearance with that same violin. The regional paper, The Gazette, accurately put it: "The violin and the student made a good team." And indeed they were. With Irina Kats on piano, a dazzling virtuoso performance enchanted the standing room crowded audience. The program selections were demanding and the 15 year old master met the challenge head on, with confidence and masterful handling the works of Beethoven, Edouard Baghdasarian, Edouard Lalo, Komitas Vartabed, and Fritz Kreisler.
It was a revelation indeed; one that brought the crowded hall to a standing ovation.
On the same day was the opening exhibition of his father: painter, printmaker, and sculptor Levon Jamgochian, an accomplished artist, who had 200 of his recent creations on display.
The day was a triumph of a father and son artistic team. The triumph rightfully may be shared also by Arec's mother, Mariam, a native of Armenia.
We are sure that we will be hearing Arec's music and about his future accomplishments yet to come. Thank you Arec.