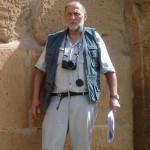 Serge Mouraviev will present a talk on his new book, The Secret of Mashtots' Erkatagir, at 7:30 PM on Tuesday, April 12, in the University Business Center, Peters Auditorium, Room 191, on the Fresno State campus.
Mr. Mouraviev's presentation is part of the Spring 2011 Armenian Studies Program Lecture Series.
The invention of the Armenian alphabet by Mesrop Mashtots at the beginning of the 5th century is narrated by a number of historians (Koriwn, Movses Khorenatsi, Lazar Parbetsi). They describe the circumstances in which Mesrop created the alphabet after the failure of another script known as the Danielian characters.
Discussions among modern scholars on the nature of this script, on whether Mashtots used it or started from scratch or based it on some other script of his time (Greek, Aramaic, Syriac, Persian…), are still on-going.
In his paper Mouraviev will claim to have identified the Danielian characters in the very shapes of those erkatagir letters that have Greek phonetic equivalents and occupy the places of Greek letters in the alphabetical order, and he will show them on the screen. All these letters conform to a matrix-like artificial pattern combining two sets of recurrent graphic elements, which are still to be found in Armenian capital letters.
Serge Mouraviev is an independent scholar in Ancient philosophy, linguistics and history. He earned his living as a translator and interpreter and completed his education himself. He started publishing on the philosopher Heraclitus' literary heritage in 1970, on the three palaeo-Christian alphabets of the Caucasus in 1980, on Caucasian palaeo-Geography and the fluctuations of the Caspian Sea of the 1st millenium B.C. in 1981, on Russian aristocratic genealogy in 1989, and on the Shroud of Turin in 1996.
In 1996 Mouraviev defended a dissertation of Docteur en philosophie at the Sorbonne (Paris IV University). He has written 15 books and more than 150 articles in Russian, French, English, or Italian published by European scientific journals. He lives in France, but spends part of his time with his family in Russia.
Admission is free to the lecture. Free parking is available in the University Business Center Parking Lot. For more information please contact the Armenian Studies Program at 278-2669.