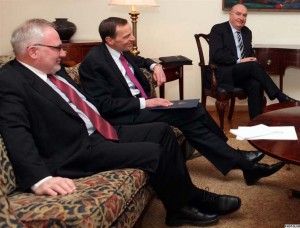 The Co-Chairs of the OSCE Minsk Group issued a statement, in which they said it's high time to finalize and endorse the Basic Principles of the Karabakh conflict settlement.
Ambassadors Bernard Fassier of France, Robert Bradtke of US, and Igor Popov of Russia said on Thursday that, accompanied by the Personal Representative of the OSCE Chairperson in Office (PRCiO) Andrzej Kasprzyk, they traveled from April 11-14 to Yerevan, Nagorno-Karabakh, and Baku and held meeting with Armenian President Serzh Sargsyan, Azerbaijani President Ilham Aliyev, and the authorities in Nagorno-Karabakh.
"In their meetings, the Co-Chairs discussed next steps for reaching agreement on the Basic Principles. It is the strong view of the Co-Chairs that the time has arrived to finalize and endorse the Basic Principles and move to the drafting of a peace agreement," read the statement.
They also said that on April 13 they crossed the Line of Contact (LOC) on foot, before continuing to Baku – a move that was "intended to demonstrate the importance of maintaining and strengthening the 1994 ceasefire and that the LOC should not become a permanent barrier to contacts among neighboring peoples, as well as to reaffirm the Co-Chairs' need to visit any areas affected by the conflict".
"In conjunction with the crossing of the LOC, the Co-Chairs also visited part of the region southwest of the city of Terter. In addition, the Co-Chairs visited the village of Orta Karvend, accompanying the PRCiO in monitoring the area where the reported March 8 incident occurred," the co-chairs said in the statement.
Building on the March 5 joint statement made in Sochi by the Presidents of Azerbaijan, Armenia, and the Russian Federation, the Co-Chairs also presented to the sides a draft mechanism for investigation of incidents along the front lines with the participation of all sides.