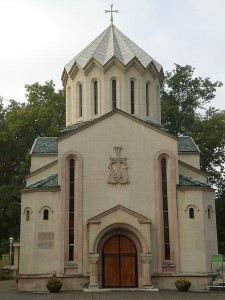 GENEVA — It would appear that a new Armenian Apostolic Church Diocese has been created in Switzerland, this despite opposition by most of the tiny Armenian community.
On Sunday, April 10, the doors to Saint Hagop Church in Geneva were closed by the Armenian Apostolic Church of Council of Switzerland, a group opposing the decision by Etchmiadzin, in an apparent attempt to prevent the new Locum Tenens, the Very Rev. Fr. Mesrop Barsamian, from gaining entry.
The Council later stated that it took the move to "avoid tension in the community."
The jurisdictional brouhaha seems to date back to the 1990's when the Council asked Catholicos Vazken I to create a separate diocese for the Church in Switzerland. A diocese was formed in 1992 but never actually functioned since the Council, after undergoing changes in leadership, rejected Etchmiadzin's move.
The Council then invited Fr. Abel Manoukian to head the Church. Catholicos Karekin I, who succeeded Vazken I, condemned the move and banned Fr. Manoukian from serving in Switzerland. The Council snubbed this edict by the head of the Armenian Apostolic Church as well.
The official Etchmiadzin website states that the newly appointed Locum Tenens Very Rev Fr. Barsamian has the blessing of Catholicos Karekin II.
A church delegation led by Archbishop Hovnan Derderian, Primate of the Western Diocese of the Armenian Church of North America, had left for Paris on April 8.
The delegation, including the new Locum Tenens, left for Geneva the next day.
On Sunday, April 10, the delegation found the doors to the church closed and the community split down the middle.
In a statement issued the same day, the Armenian Church Council of Switzerland said that it had only heard of the creation of a new diocese through reports in the Armenian press.
The Council says it stands by its letter of March 25, 2011, sent to Catholicos Karekin II, in which it rejects the formation of a Swiss Diocese and reaffirms Fr. Abel Manoukian as its priest.
In the statement, the Council claims that it represents the will of the vast majority of the Armenian community residing in Switzerland.
The Council closes its public statement thusly – "We wish Arch Derderian and Fr. Barsamian a safe return home."
On April 5, 2011, five Swiss-Armenian organizations, including the local AGBU, sent a joint letter to Catholicos Karekin II backing the Council's position.
"We concur with the Council that establishing a Diocese in Switzerland, recalling our priest and assigning an archbishop to Switzerland are unwarranted and against the wishes of the vast majority of the Armenian diaspora in Switzerland."
It would appear that a jurisdictional stalemate is now in force in Switzerland.
There is nothing on the Armenian Church website that reflects the ongoing division between Etchmiadzin and the Swiss-Armenian community.