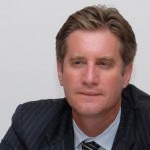 BAKU — U.S. ambassador to Azerbaijan Matthew Bryza told journalists he is happy that Azerbaijan has changed its stance and tries to protect its rights in ICAO.
Asked about the opening of an airport in Stepanakert, Bryza said he does not want to give certain comments: "Let the [OSCE Minsk Group] Co-Chairmen arrive in the region and express their attitude. It would be more correct. I can also say that aircrafts from Azerbaijan to Nakhijevan fly over Armenia's airspace, and it is considered to be acceptable," APA quoted Bryza as saying.
Stepanakert's airport will start its operation from May 9, 2011. Azerbaijan has recently threatened to shoot down aircrafts flying to Nagorno-Karabakh.
On March 21, the International Civil Aviation Organization (ICAO) handed Armenian General Department of Civil Aviation a letter from head of the Azerbaijani aviation department which says Baku is ready to shoot down planes flying to Karabakh if authorities open Stepanakert airport.
"We notified that the airspace over Karabakh is closed. The Law on Aviation envisages physical destruction of airplanes landing on this territory," State Civil Aviation Administration of Azerbaijan Arif Mammadov declared in the statement.