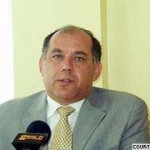 STEPANAKERT — A prominent Turkish Cypriot politician paid a landmark visit to Nagorno-Karabakh over the weekend to take part in roundtable discussions organized there by a British peacebuilding charity.
Kutlay Erk, secretary general of the Republican Turkish Party (CTP), reportedly shared with local officials and civil society members his long experience of face-to-face contacts with Greek Cypriots. He said such contacts are important for resolving the decades-long conflict in Cyprus.
"Before that we were enemies, but thanks to our communication we became friends. Mutual trust developed into friendship," the Regnum news agency quoted Erk as saying at a seminar in Stepanakert sponsored by the London-based group International Alert.
"Our existing status quo is unacceptable, unstable," he said. "We need to look for other solutions. The status quo in the Karabakh conflict zone is not the best one either."
Erk served as the mayor of the Turkish-controlled part of the Cypriot capital Nicosia until 2006 and was later a special negotiator of Mehmet Ali Talat, the former CTP leader and president of the unrecognized Turkish Republic of Northern Cyprus (TRNC). Talat championed reunification of the divided island and closer ties with the European Union during his 2005-2010 presidency.
According to Regnum, Erk, who is apparently the first Turkish Cypriot to set foot in Karabakh, was asked by a seminar participant about Azerbaijan's threats to shoot down civilian aircraft that will use the Armenian populated territory's sole airport currently undergoing reconstruction.
Erk appeared to disapprove of those threats, saying that Northern Cyprus has for decades had flight services with Turkey despite being recognized only by Ankara. "Despite political protests from the Greek side, there have never been any harmful actions, any threats to shoot down civilian planes," he was quoted as saying.