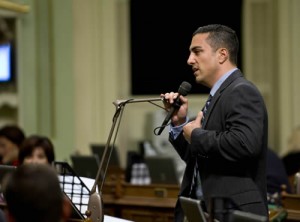 Sacramento, CA – The California State Assembly passed today by a vote of 61-0, AB 173, a bill introduced by Assemblyman Mike Gatto (D-Los Angeles) and co-authored by Assemblyman Katcho Achadjian (R-San Luis Obispo). AB 173 extends the deadline through 2016 for the families of victims of the Armenian Genocide to file claims on insurance policies.
"I feel that this is an important bill that will help the Armenian American community find justice for their relatives. They have only had the ability to sue in California courts since 2001," said Assemblyman Gatto in describing the bill which would extend the time during which such lawsuits can be pursued. "This is an issue of fair access to the courts."
"On this solemn occasion, it is gratifying to see our public servants, like Assemblyman Gatto, recognizing the Armenian Genocide, and acknowledging it so that it never happens again," said Mark Geragos, legal counsel for families pursuing many of these claims.
Continued Geragos, "I think this is important work for the legislature, and everyone in California to hold accountable all the companies that benefited from the Genocide."
Gatto also presided over The California State Assembly's yearly commemoration of the Armenian Genocide today, which held a series of activities to honor the victims and their descendants.
The Assembly also passed AJR 7 authored by Assemblyman Gatto which would designate the week of April 18 to 24, 2011, as "California Week of Remembrance for the Armenian Genocide of 1915–1923," and would urge Congress and the President of the United States to observe the California Week of Remembrance for the Armenian Genocide.
AB 173 now heads to the California State Senate for further consideration.
Gatto represents the cities of Burbank, Glendale, and parts of Los Angeles, including Los Feliz, North Hollywood, Silver Lake, Toluca Lake, Valley Glen, and Van Nuys. He has served in the Assembly since June 2010.