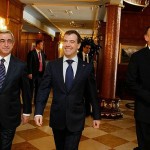 YEREVAN — The latest Armenian-Azerbaijani summit hosted by Russia produced encouraging signs for the resolution of the Nagorno-Karabakh dispute and should bolster the shaky ceasefire regime in the conflict zone, President Serzh Sarkisian said at the weekend.
Sarkisian described as "landmark" his trilateral talks with President Ilham Aliyev of Azerbaijan and Dmitry Medvedev of Russia that were held in the Russian city of Sochi on March 5.
"It appears that the path along which we can move forward at last became visible at Sochi," he told journalists without going into details.
Sarkisian made a similarly positive assessment of the talks during an official visit to Latvia last week. "A week ago I would have said that there are no results, no positive movement. But after the meeting in Sochi we can say there is certain progress in Azerbaijan's position," he told members of the local Armenian community, according Armenian Public Radio.
Official Baku has also indicated its satisfaction with the results of the Sochi summit. Aliyev's chief foreign policy aide, Novruz Mammadov, spoke last week of a "slight positive change" in Yerevan's position which he said brightened prospects for a Karabakh settlement.
In a joint statement with Medvedev issued in Sochi, Aliyev and Sarkisian pledged to "seek to resolve all contentious issues by peaceful means" but did not specify whether they narrowed their outstanding differences on a framework peace accord drafted by the Russian, U.S. and French mediators. They also agreed to investigate ceasefire violations in the conflict zone together with representatives of the Organization for Security and Cooperation in Europe.
Sarkisian on Saturday stressed the importance of this "short-term agreement," saying that it should reduce ceasefire violations along the Armenian-Azerbaijani "line of contact." "According to our agreements, we are entering a process where we must be able to ease tension, which will enable us to hold normal negotiations, finish those negotiations and, if they are successful, achieve our goals," he said.
The confidence-building understanding was called into question by fresh deadly shootings reported from the Karabakh frontline over the past week. An Armenian soldier was shot dead in Karabakh's southeastern edge last Thursday.
In a weekend statement, the Karabakh Armenian authorities accused Azerbaijan of resorting to "provocative actions" that hamper international efforts at the conflict's peaceful resolution. They said that unlike the Armenian side, Baku continues to oppose mutual withdrawal of snipers from the frontline, an idea advocated by the mediators.
The U.S., Russian and French diplomats co-chairing the OSCE Minsk Group will again visit Azerbaijan and Armenia late this week for talks that are expected to focus on ways of preventing further truce violations. They expressed last week "deep concern" at the continuing deadly skirmishes in the conflict zone.