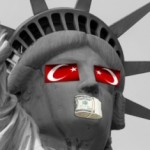 ISTANBUL — As part of their anti-Armenian Genocide campaign, the Turkish authorities have spent over 3 million US dollars, the Turkish newspaper Hurriyet says, citing the US Department of Justice reports.
Through its diplomatic channels in Washington, Ankara has reportedly transferred a sum of $3.3 million to the United States lobbyist organizations.
"Most of the sums were spent to halt the Congress efforts to adopt the Resolution on the Armenian Genocide," the Turkish publication says.
"The lion's share was paid to the Gephard Group lobbyist organization. To prevent the Genocide Resolution from being adopted, former Congressmen Richard Gephard had several phone conversations with the head of President Obama administration and the US Secretary of State."
According to the US Department of Justice, the Turkish authorities allocated $1.42 million to Gephardt Group, $536,000 to Dickstein Shapiro, $590,000 to Fleishman-Hillard, 270,000 to 30 Point Strategies, $270,000 to Silver Associates, $168,000 to the Caspian and $50,000 to the Mercer.