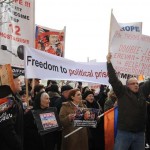 YEREVAN — A coalition of Armenian non-governmental organizations called on Wednesday for the release of all opposition members remaining in jail, saying that their continuing imprisonment is a major source of political instability in the country.
In an annual report, the Partnership for Open Society, which unites about 50 NGOs involved in civic activism, also criticized the Armenian government's overall human rights record.
"Tensions between the government, the opposition and the public will continue as long as the government delays the release of all political prisoners and the restoration of their rights," the report says, referring to about a dozen jailed oppositionists.
They were among more than 100 supporters of former President Levon Ter-Petrosian arrested following a disputed presidential election held in February 2008.
The NGO coalition also accused the authorities of continuing to restrict freedom of assembly and speech and abetting human rights abuses committed by security agencies in 2010. In particular, it denounced their continuing tight grip on broadcast media.
The report issued by the grouping is aimed at assessing government actions stemming from Armenia's inclusion in the European Neighborhood Policy (ENP) program, which offers it the prospect of closer partnership with the European Union conditional on political and economic reforms. The report concludes that the authorities in Yerevan have largely failed to deliver on reform pledges given to the EU.
"It is clear that in terms of political rights, Armenia's citizens are not better protected than they were in 2004 when the European Neighborhood Policy was initiated," one of its authors, Boris Navasardian of the Yerevan Press Club, told RFE/RL's Armenian service.
"True, a lot of paperwork has been done. But what has changed as a result of that in terms of civil rights?" he said.
Accordingly, Navasardian disagreed with EU officials' overall satisfaction with Yerevan's ENP-related actions. "They don't seem have a clear idea of how to work with former Soviet republics," he said.