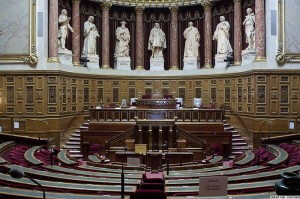 PARIS — The upper house of France's parliament effectively rejected late Wednesday a bill that would make it a crime to publicly state that the 1915 mass killings of Armenians in Ottoman Turkey did not constitute genocide.
The bill drafted by lawmakers from the main opposition Socialist Party was adopted by the French lower house, the National Assembly, in 2006 amid vehement protests from the Turkish government. It needs to be also passed by the French Senate in order to become a law.
The influential French-Armenian community has for years been trying to push it through the Senate dominated by supporters President Nicolas Sarkozy. The effort has faced tacit resistance from the French government.
The government indicated through a spokesman, Francois Baroin, on Wednesday that it does not support the draft law co-sponsored by three dozen Socialist senators. He said existing French legislation allows the state to counter public denials of the Armenian genocide by Turks.
Baroin argued that France recognized the genocide with a special law adopted in 2001. "France continues to believe that [genocide] denialism is unacceptable in any form," he said, according to the Armenews.com news service.
A standing committee of the Senate made similar arguments as it openly opposed the bill. The full chamber then voted by 196 to 74 to block a formal debate on the issue.
The move angered several hundred French people of Armenian descent who gathered outside the Luxembourg Palace in Paris, the seat of the Senate, during the discussion.
Many community activists blame Sarkozy, who is expected to run for reelection. One of his potential challengers, Socialist Party leader Martine Aubry, has reportedly backed the drive to criminalize genocide denial.