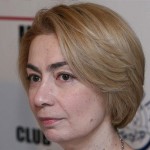 YEREVAN — The U.S. Embassy in Yerevan gave on Tuesday a posthumous award to Amalia Kostanian, Armenia's most prominent anti-corruption campaigner who unexpectedly died last September, for what it described as her "decade-long crusade to promote accountable and transparent governance."
U.S. Ambassador Marie Yovanovitch presented the Embassy's annual Woman of Courage Award at a ceremony attended by Armenian government officials and civil society members. She paid tribute to Kostanian's "persistence and dedication to Armenia's development and democratization which exemplified honor and patriotism of the highest order."
"Her life's purpose was to inspire in each one of us the responsibility to tackle corruption and the hope that we could make a difference," Yovanovitch said.
"The best way to remember Amalia is to do better and to do more in the fight against corruption … She lives on in the many who continue her call for a more just and democratic society," she added.
Kostanian, 50, was the founding chairwoman of the Anti-Corruption Center (ACC), the Armenian affiliate of the Berlin-based Transparency International that has earned domestic and international acclaim for its efforts to expose and fight against government corruption.
Kostanian was a vocal critic of bribery, nepotism and other corrupt practices that remain widespread in Armenia. She and other ACC activists repeatedly questioned successive Armenian governments' state efforts to tackle the problem.