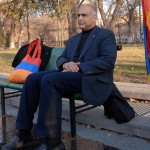 YEREVAN — Raffi Hovannisian, the leader of the opposition Zharangutyun (Heritage) party, went on hunger strike on Tuesday to demand that Armenia's leadership hold fresh presidential and parliamentary elections that are also sought by another major opposition group.
Hovannisian announced the "freedom fast" in a speech at a Zharangutyun conference. He said he will indefinitely refuse food and stage an around-the-clock sit-in in Yerevan's Liberty Square, the scene of massive antigovernment demonstrations held by another opposition leader, Levon Ter-Petrosian, following the disputed February 2008 presidential election.
Hovannisian could be seen seated on a bench in the square beside an Armenian national flag later in the day. Speaking to RFE/RL's Armenian service, he urged President Serzh Sarkisian to hold Armenia's "first free and fair elections since 1995."
"I'm not begging, asking or demanding," he said. "But I expect that in this emergency situation the current authorities will come down and give back the Armenian people their votes and their voice. And I expect the authorities to expedite an emergency solution.
"At the same time I hope that the Armenian society will become the master of its own country and will not wait for anyone to deliver its rights and freedoms on a plate. They have to be won."
The extraordinary hunger strike comes two weeks after Hovannisian and four other parliament deputies representing Zharangutyun walked out of Armenia's National Assembly, accusing Sarkisian of seeking to illegally prolong his rule.