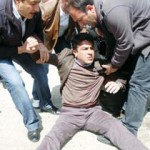 ISTANBUL — Seventy people were detained Thursday following a civil disobedience action led by Turkey's main pro-Kurdish party in the south-eastern city of Batman, where parliamentary deputies from the party also began an ongoing sit-in protest.
According to the Hurriyet Daily News, the incident was sparked by the raiding, and later the removal, of a tent set up March 15 in central Batman by the local branch of the Peace and Democracy Party, or BDP.
It was removed Wednesday night by police officers under a court ruling order.
Batman police said in a written statement that the "Democratic Solution Tent" was used as a "base in protests that disrupted traffic and led to the injuries of eight police officers."
The statement said an unlicensed gun and documents of an illegal organization were confiscated in the raid.
Four people in the tent were taken into custody on charges of links to the outlawed Kurdistan Workers' Party, or PKK.
Members of the BDP, including the party's deputy parliamentary group leaders, Bengi Yildiz and Ayla Akat Ata, assembled Thursday at the site of the tent to make a press statement.
Yildiz told reporters that the area had been rented from its owner and the police had no right to remove the tent. "We provided the necessary documents. What was done here was illegal," he said.
After making the statement, Yildiz and Ata started a sit-in protest. The number of demonstrators reached into the hundreds before police intervened, taking into custody more than 70 people, including local BDP head Saadet Becerikli and Salih Aktan, the head of the municipal assembly.