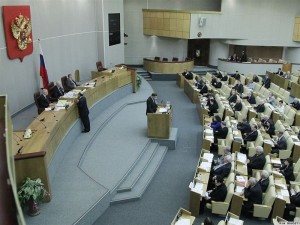 MOSCOW — The lower house of the Russian parliament, the State Duma, on Friday ratified a protocol extending Russia's use of a military base in Armenia and deepen wider defense links between the two countries.
The agreement, signed during Russian President Dmitry Medvedev's August 2010 visit to Yerevan, extended Russia's lease on a military base headquartered in Gyumri by 24 years, until 2044. It also upgraded the base's role in contributing to Armenia's security and committed Moscow to supplying the Armenian military with modern weaponry.
The base is under command of Russia's North Caucasus Military District and is part of the CIS integrated air defense system.
The Armenian parliament ratified the agreement in April, two months after its legality was upheld by the Constitutional Court in Yerevan.
Alexei Ostrovsky, chairman of a State Duma committee on the Commonwealth of Independent States, stressed "the exceptional significance" of the defense pact as he presented it to Russian lawmakers for ratification. He said it will not only step up Russian-Armenian military cooperation but also serve as an "additional argument in our everlasting allied, friendly and mutually beneficial relations."
"The presence of the Russian military base has become an integral part of partnership between Russia and Armenia on issues related to the security of our countries as well as an element of security in the Caucasus region," the Itar-Tass news agency quoted Ostrovsky as saying.
The Gyumri base numbers some 3,500 troops and is equipped with hundreds of tanks, armored personnel carriers and artillery systems. It was beefed up a decade ago by S-300 surface-to-air missile systems and MiG-29 fighters.
The Russian troop presence has been a key element of Armenia's national security strategy. Georgia complicated it in April when it annulled an agreement that allowed Moscow to make shipments to the base through Georgian territory and airspace.
According to Itar-Tass, Ostrovsky mentioned the Georgian move in his speech. He told the Duma that the Russian Defense Ministry has "additionally addressed the issues of supplies to the base, including by using third countries." He did not elaborate.