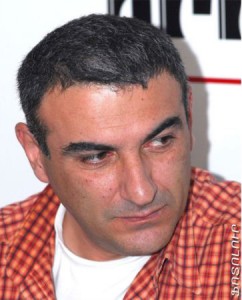 YEREVAN (RFE) — A prominent journalist working for Armenia's leading pro-opposition newspaper was arrested on Friday on charges of injuring another man which his colleagues rejected as baseless and politically motivated.
Police said Hayk Gevorgian, a veteran correspondent, columnist and editor for the "Haykakan Zhamanak" daily, was taken into custody for running over an unnamed "young man" and speeding away in a newspaper car last month. He was formally charged under articles of the Armenian Criminal Code dealing with serious injuries caused in traffic accidents.
Gevorgian was detained by police officers outside his Yerevan apartment and taken to the police headquarters in the city's central administrative district. He was kept there for several hours before being transferred to the Nubarashen prison in Yerevan.
The alleged car incident occurred on January 13, the day when "Haykakan Zhamanak" published a sarcastic article written by Gevorgian about Vladimir Gasparian, chief of the Armenian police.
Nikol Pashinian, the "Haykakan Zhamanak" editor-in-chief, emphasized this fact as he accused Gasparian of trying to take revenge on the journalist with "fabricated" charges and demanded his immediate release.
"With this attack Vova Gasparian and other representatives of the ruling elite aim to impede the work of the 'Haykakan Zhamanak' newspaper and spread fear among all those Armenian journalists who have no psychological barriers to publishing information about any representative of the corrupt regime," Pashinian charged at a news conference.
The outspoken editor dismissed police claims that Gevorgian refused to cooperate with investigators and ignored a written summons sent by the police. He said Gevorgian only wanted to clarify his status before going to a police station.
Pashinian also said that Gevorgian informed him about the January 13 incident before the arrest. He said the journalist spoke of an unknown man who cried and feigned injury after persistently standing in the car's way. "Hayk insists — and I trust his assurances — that there was no physical contact," he said.
Pashinian also insisted that contrary to the police claims Gevorgian did not flee the scene and in fact got out of the car to berate the man for the allegedly provocative behavior.
"Haykakan Zhamanak" is the country's best-selling daily strongly supporting the main opposition Armenian National Congress (HAK). Pashinian, who is also a senior member of the HAK, has spent about two years in prison on controversial charges stemming from the 2008 post-election violence in Yerevan.