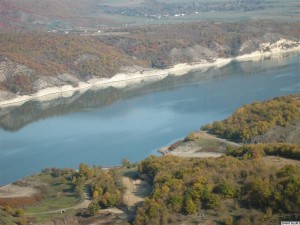 STEPANAKERT — A group of entrepreneurs from Austria, the Czech Republic and Slovakia offered to invest millions of dollars in Nagorno-Karabakh's economy during a visit to Stepanakert on Friday.
The businessmen met with Karabakh leadership and received a positive response to their plans.
According to Ashot Grigorian, the Armenian-born owner of a Slovakian energy consulting firm who organized the trip, they are specifically interested in the local energy, construction and agriculture sectors. He said they would like to start out with pilot projects worth a total of at least $15 million.
"For the time being, we are talking about each of the firms investing only several million dollars," Grigorian told RFE/RL's Armenian service. "But if the process goes well, they will invest more serious sums."
Bako Sahakian, the president of Nagorno-Karabakh Republic (NKR), was quoted by his office as welcoming rare foreign investors visiting Stepanakert and promising to support them.
Georgi Petrosian, the NKR foreign minister said he warned the businessmen that their projects are certain to infuriate Azerbaijan, which considers any foreign investment in Karabakh illegal. He said they were unfazed by likely Azerbaijani protests.
"The energy sector is particularly attractive to them because the government of Artsakh (Karabakh) has adopted an exceedingly progressive program," said Grigorian. "They are going to build a cascade of hydro-electric stations. Artsakh is laying the foundation of a modern energy system that doesn't exist elsewhere in the South Caucasus."
Under that program, Karabakh will stop importing electricity from Armenia in 2012 and be able to export power generated by its fast-flowing rivers in the following years. Ara Harutiunian, the Karabakh prime minister, described "food security and energy independence" as his government's chief economic priorities in late December.
In Grigorian's words, the talks with the Karabakh leaders, though productive, did not go smoothly. "I think that apart from economic calculations, people in Artsakh should also take into account the fact that when a plant is opened here [by foreigners] it marks a further step towards recognition of their independence," he said.
"People in Artsakh take out their calculator and start calculating [potential] profits and so on, and if they see that the profits are not that high, they say, 'Invest in Armenia,'" complained the Slovakian-Armenian businessman.