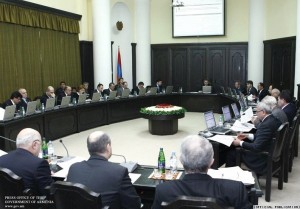 YEREVAN — Justice Minister Hrayr Tovmasian crossed swords with the head of Armenia's National Security Service (NSS) on Thursday over a bill regulating the crowd control powers of Armenian law-enforcement bodies.
A package of amendments to more than a dozen laws drafted by the Ministry of Justice stems from Yerevan's pledges to bring Armenian freedom of assembly legislation into greater conformity with European standards. Experts from the Council of Europe and the OSCE have reportedly endorsed them.
The NSS director, Gorik Hakobian, expressed serious concern about the draft amendments after they were presented by Tovmasian at a weekly session of Prime Minister Tigran Sarkisian's cabinet.
Hakobian complained that he was able to familiarize himself with them only hours before the meeting and said Europeans must not tell Armenian security bodies how to respond to anti-government demonstrations. "Why should European experts tell us how security forces should act in emergency situations?" he told Tovmasian.
Hakobian was also unhappy with use of the word "participation" with regard to riot police and other security forces. "We don't participate [in rallies,]" he said. "Participating means giving speeches, applauding, waving posters. Can we attend, if there are mass riots and, God forbid, thousands of deaths?"
"I specifically want to get an answer to the following question. Do those European experts agree that we have to be present or not?" he added in rare remarks heard by journalists.
Tovmasian, who was appointed justice minister less than two months ago, responded by dismissing Hakobian's references to foreign experts. He said the NSS chief should instead look at Article 29 of the Armenian constitution that guarantees freedom of peaceful assembly. The clause also stipulates that law-enforcement and judicial authorities can limit that freedom only in accordance with law.
Journalists watching the cabinet meeting from monitors in an adjacent room could not hear the rest of the tense exchange between the two officials. Microphones in the cabinet auditorium were again turned on only when Sarkisian intervened in the debate.
"Mr. Hakobian, there are clauses that need to be edited and we will definitely revise this bill together with all interested bodies and submit it to the National Assembly for consideration," said the prime minister. "I am sure that there will also be many queries about this draft law at the National Assembly because it has a serious political content."
Tovmasian downplayed the row after the meeting, saying that showed a "normal working atmosphere in the government." He also said the legislative package will be sent to the parliament soon.
Armenia's law on public gatherings was significantly toughened following the March 1-2, 2008 post-election unrest in Yerevan. The authorities partly repealed those restrictions afterwards in the face of strong criticism from the Council of Europe.
They have also pledged to prevent a repeat of the street violence that left eight opposition protesters and two security personnel dead. The authorities' handling of the 2008 opposition protests has been strongly criticized by domestic and international human rights groups.
Hakobian seemed to defend the police and NSS actions during the unrest as he objected to the proposed amendments. "Who was monitoring [the events of] March 1? How were the authorities reacting? We were giving the whole information [to the country's leadership] online," he said.