YEREVAN (RFE/RL) — Tens of thousands of protesters gathered in the center of the Armenian capital after lawmakers elected Serzh Sarkisian prime minister, cementing his continued dominance of power.
The demonstrators massed in Yerevan's Republic Square late on April 17, holding Armenian flags and chanting "Armenia without Serzh."
Sarkisian sought to justify his decision to hold on to power on Tuesday as lawmakers elected him Armenia's new prime minister. He denounced the ongoing protests but at the same time downplayed their significance moments after the Armenian parliament voted by 76 to 17 to appoint him to what will now be the country's top government post.
"The people cannot be unruly," he said on the parliament floor. "If they were, there would be millions of people in the streets. You know full well how many people are taking part in these demonstrations."
The appointment of Sarkisian as prime minister came as police detained at least 80 activists who were demonstrating against the move in Yerevan, where crowds have been rallying for days in protest.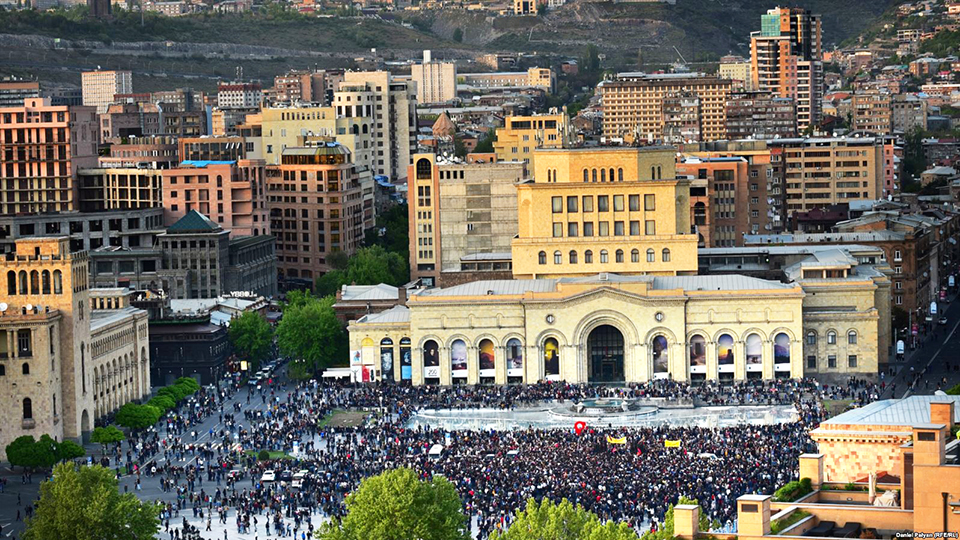 Despite warnings from the authorities that they would act to quell the unrest, hundreds of demonstrators blocked streets in central Yerevan on April 17, a day after dozens of protesters were hurt in clashes with police barring the path to parliament.
The main organizer of those rallies, Nikol Pashinian, pledged to continue his campaign which he said is turning into a popular "velvet revolution" against Sarkisian. Reacting to the parliament vote, Pashinian told RFE/RL's Armenian service (Azatutyun.am) that he will keep trying to "paralyze the state government system" with peaceful acts of "civil disobedience."
Early in the morning on Yervean's France Square, a deputy police chief handed Pashinian a notice warning that protesters had violated legislation on public gatherings and that the authorities had decided to stop the demonstrations.
Pashinian tore up the warning without reading it and declared that a campaign of "total disobedience" had begun. Nearby, a group of protesters were camped out in front of a riot-police line on a central street, with rolls of razor wire separating the two sides.
"I declare today the launching of a velvet [revolution], a peaceful people's revolution," Pashinian, wearing a camouflage T-shirt, said as Sarkisian addressed lawmakers from the legislature's podium before a vote that seemed certain to make him prime minister.
"A revolutionary situation is brewing across the country. Demonstrators are blocking streets and…highways in the cities of Gyumri, Ijevan, Vanadzor, Kapan, and Metsamor," he added. "People are not going to work, mass strikes have begun."
Pashinian and other critics say that Sarkisian's extended rule would deal a severe blow to democracy and the rule of law.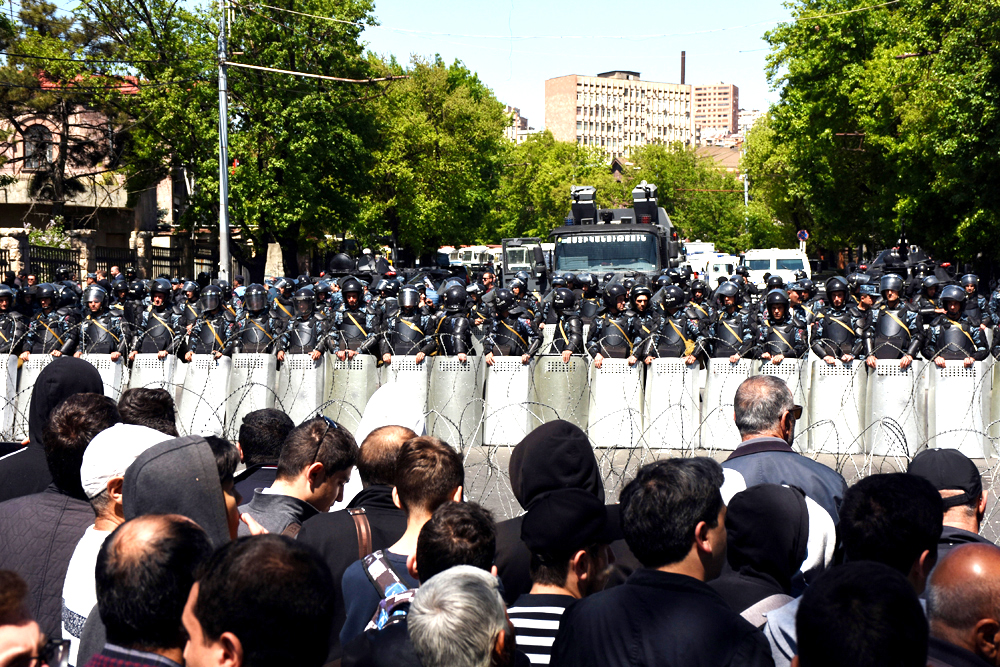 Sarkisian claimed that his premiership will not amount to a third term in office because he will wield fewer powers than he did in his previous capacity as president of the republic. "People have still not realized that there is no one-man rule anymore," he complained at a special session of the National Assembly overshadowed by tight security measures taken in and outside the parliament building.
Predictably, Sarkisian's candidacy was backed by the deputies from his ruling Republican Party (HHK), its junior coalition partner, Dashnaktsutyun, as well as more than a dozen lawmakers representing businessman Gagik Tsarukian's nominally opposition alliance. Tsarukian himself did not attend the session.
The vote was boycotted by Pashinian and by three other deputies from the opposition Yelk alliance. The five other Yelk parliamentarians attended the session and voted against Sarkisian.
In his opening speech in the parliament, Sarkisian said he can continue to govern the country because he leads a party that won last year's parliamentary elections. This will be in line with the newly introduced parliamentary system of government, he said.
Sarkisian publicly stated in 2014 that he "will not aspire" to the post of prime minister if Armenia becomes a parliamentary republic as a result of his controversial constitutional changes. Pashinian and other opposition leaders now accuse him of breaking that pledge to cling to power.
Sarkisian dismissed the opposition claims on Tuesday, citing a "de facto absence of my ambitions" to serve as premier and again saying that his 2014 statement was taken out of context.
Opposition lawmakers scoffed at these arguments. "If everything is so good, then why is everything so bad?" asked Yelk's Edmon Marukian.
Marukian accused Sarkisian of having lost touch with reality and building a "fake parliamentary system." "There are two worlds: your world and the world in which we live," he told the ex-president.
Another Yelk leader, Aram Sarkisian, charged that the incoming premier has also failed to honor his 2008 pledge to tear down a "wall of misunderstanding" between Armenians and their rulers. "The wall of misunderstanding now surrounds this building," he said, alluding to the heavy police presence outside the parliament compound.