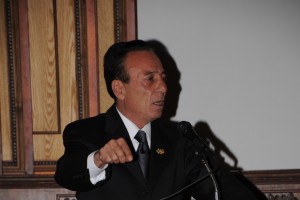 Massis Weekly affiliate HayNews.am conducted an exclusive interview with the Social Democrat Hunchakian Party Central Committee Chairman Mr. Setrak Ajemian. Below are translated excerpts of the interview.
– 2010 was rich in terms of foreign policy developments for Armenia, according to you what was forfeited and what was attained?
– "Unfortunately, we began the year with let down and disappointment, which in effect has had a negative effect on Armenia-Diaspora unity. This is significantly caused by the Armenian Turkish protocols. We have repeatedly cautioned Armenia and urged the authorities to renege on unacceptable agreements such as the protocols and to avoid singing similar incomprehensible agreements in the future. They did not listen, but rather went ahead with a reprehensible step and signed the protocols, causing the fair indignation of millions of Armenians. Fortunately, for the time being, Turkey has done everything to halt this agreement. It is our firm belief that the Armenian authorities put an end to this process and withdraw the protocols from the National Assembly. Of course, relations with Turkey sooner or later will be established, but not by these terms and not by forsaking our national interests.
As for Karabakh; we are very alarmed at the militarist statements being asserted from Baku. We must at any moment be ready for military operations in Karabakh; preserving the self-determination of our brothers and sisters. We are also concerned about the so-called Madrid principles, which are currently on the negotiation table. The principles contain risky and unacceptable provisions that would not bring peace to the region, but in actuality result in extending and expanding tensions; creating a potentially explosive situation.
– Mr. Ajemian, as for domestic policy…
Who says Karabakh is not connected with the internal politics of Armenia? The previous and current Armenian authorities had opportunities to resolve the NKR issue. Twenty years has past, twenty years … Those neglected years were a great opportunity for Artsakh to establish a great economy and expand the country's population. Of course, there is also the purposeful exclusion of the Diaspora in all these matters. We believe that Armenia's domestic problems directly relate to its foreign policy successes and defeats. A more transparent Armenia, an elimination of monopolies, an establishment of free and independent media, an Armenia where impartial elections are held, would be a strong Armenia able to resist foreign intimidation. These are the only resources that can withstand the influence of Azeri oil in the international arena. It pain's our hearts to witness in the last years that the authorities were unable to or did not want to implement reforms. The economy of our country to date is based on monopolies while the Armenian people's social situation continues to grow dire. In our daily interactions as well as statistics show that there are huge deficiencies in Armenia. In Armenia Armenians should not be hungry or live in poverty. We have all the resources, "surgical" reforms are needed to utilize these resources for the betterment of the people. It is our hope that in 2011 these issues will be addressed and resolved.