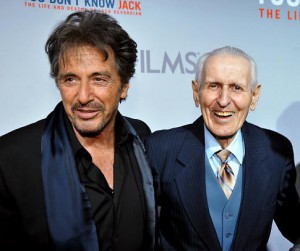 LOS ANGELES — Al Pacino went for a win at the Golden Globe Awards 2011 for his title role in You Don't Know Jack.
The veteran movie star won as the best actor in a series, miniseries, or motion picture made for television, taking the trophy from Idris Elba, Ian McShane, Dennis Quaid, and Edgar Ramirez.
His role as Jack Kevorkian was a demanding one, garnering Al Pacino accolades as best actor in the same category at the Emmy Awards last fall.
In Barry Levinson film You Don't Know Jack Al Pacino played the role of the main character, Armenian doctor Jack Kevorkian, a supporter of "humane death," euthanasia. Kevorkian's ancestors had experienced the Armenian Genocide in the Ottoman Empire, which had a deep impact on formation of doctor's individuality and his perception of life. The film is based on real facts.
"For me, it was very difficult to play a real, not invented character," Al Pacino said at the awarding ceremony.