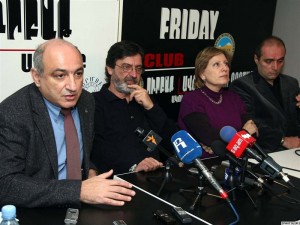 YEREVAN — Thousands of Armenians have donated small amounts of money to a fund set up to assist A1+ TV television company that has been struggling for years to regain its broadcasting license.
A group of Armenian scholars and public activists initiated the People's TV Trust in October with the stated major purpose of helping A1+ TV return to the air, as well as "creating and broadcasting non-profit television programs of public significance."
In what is largely viewed as a symbolic show of support for having independent television in the country, more than 20,000 citizens have already donated a total of about 3.5 million drams (approx. $10,000) to the cause.
At a press conference on Monday, People's TV Trust representatives said they intended to go ahead with their project regardless of the outcomes of the broadcast licensing contests due to be announced by the state regulator on December 16.
A1+, a rare television company critical of the government in Armenia, controversially lost its broadcasting license in 2002 and has not been granted another license in any of a dozen contests it has participated in since then.
The company now operating a popular news website and 'online television' faces rare competition in one of the ongoing 18 contests for digital broadcasting licenses, 16 of which feature only one bidder per frequency.
Its proposal submitted to the National Commission on Television and Radio (HRAH) this time includes an investment certificate for a total of more than $1 million at the initial stage of business operations.
In an interview with RFE/RL's Armenian service on Monday Yerevan Press Club President Boris Navasardian, who is a member of the People's TV Board of Trustees, said that "a new situation has emerged today as compared to the situations that existed prior to the previous contests" and did not exclude that this situation might "cause the authorities to allow A1+ to return to the air."
"I agree that the HRAH is unlikely to make a decision that would go against the wish of the authorities. But we fully understand the impact that international pressure normally has on the authorities, and besides today we have a decision by the European Court of Human Rights," said Navasardian.
The Strasbourg-based Court fined the Armenian authorities in 2008 over the HRAH's consistent rejection of A1+ applications for a new frequency, which it said constituted a violation of the "freedom of expression" article of the European Convention on Human Rights.
That ruling, however, did not result in A1+'s immediate return to the air as the Armenian authorities controversially suspended, for about two years, the licensing process citing the need to expedite the country's transition to mandatory digital broadcasting.
Mesrop Movsesian, the head of A1+'s founding company, Meltex, said he was optimistic about regaining the broadcasting rights this time around.