KARABAKH (RFE/RL) — A controversial Russian businessman, who had become one of the first Soviet multimillionaires, appears to have settled in Nagorno-Karabakh with his family after reportedly fleeing Russia for reasons that are not entirely clear.
German Sterligov, 48, seemed to confirm on Tuesday his surprise relocation to Karabakh. He said he will explain it at a news conference in Shushi next Monday.
Sterligov rose to prominence in 1990 when he founded, together with several other Russian entrepreneurs, the Soviet Union's first commodities exchange at the age of 24. It served as a launch pad for a financial empire with offices in London and New York which he built in the following years.
Sterligov subsequently became known as a deeply religious man with hardline nationalist views and extreme hostility to science and technology, which he accuses of destroying humankind. He tried unsuccessfully to run for the Russian presidency in 2004 after failed bids to become mayor of Moscow and governor of the vast Krasnoyarsk region in Siberia.
In 2004, Sterligov abandoned much of his wealth to move deep into the Russian countryside and live a traditional peasant lifestyle there with his wife and five children. As he explained to the BBC afterwards, he wanted to escape "the mercenary atmosphere, the envy and the hustle" of Moscow.
Four years later, Sterligov founded in central Russia the Sloboda rural commune that offered free housing, healthcare and other public services to young and married Russians willing to work there as farmers or craftsmen. Later in 2008, he resumed his entrepreneurial activities in Moscow, setting up a trading and financial services company.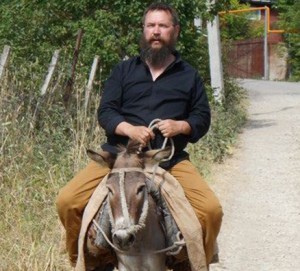 The Russian media reported over the weekend that the eccentric tycoon wearing a big bushy beard is again selling off his assets and has left Russia for Karabakh together with his family.
"He was forced to leave the country by serious circumstances," the Interfax news agency quoted an aide to Sterligov, Polina Sirota, as saying. "It's not bandits, it's a higher level," she added without elaborating.
Some media outlets in Moscow claimed that Sterligov fled Russia to avoid prosecution in connection with incriminating testimony that has been given against him by two Russian ultranationalists jailed for politically motivated killings. Sterligov's ethnic Armenian lawyer, Artur Ayrapetov, suggested that this "slander" provided only an "additional incentive for his departure."
Ayrapetov said on Monday that his client has moved to Karabakh because he has a "good rapport with many respected persons in Armenia." "Besides, all those values which he has applied to his Sloboda in recent times have already been put into practice in Nagorno-Karabakh," he told the "Moskovsky Komsomolets" daily.
Sterligov reacted to the Russian press reports on Tuesday through his personal page on a Russian social media platform, V Kontakte. He posted a picture of himself riding a donkey in a village and wrote: "I just came down from the mountains, surfed on the Internet and got stunned."
"I am scheduling a news conference for next Monday," he said. "The venue — the blooming garden of Nagorno-Karabakh, the ancient Armenian town of Shushi. Dear journalists, arrange assignments [to Karabakh] and you'll learn the truth."
Sterligov also posted a Karabakh cellphone number for the "accreditation" of reporters willing to cover the news conference.
An RFE/RL phone call at that number was answered on Wednesday by a Russian woman who presented herself as Sterligov's assistant. She confirmed that the tycoon is now in Karabakh and will talk to reporters in Shushi on July 13. "Everything else will be said at the news conference," she said, refusing to comment further.
The Azerbaijani government, meanwhile, condemned Sterligov's "illegal visit to the occupied territory of Azerbaijan." An Azerbaijani Foreign Ministry spokesman told haqqin.az that his name will be added to an official list of foreigners banned from visiting Azerbaijan.He said Russian and other journalists covering Sterligov's press conference without Baku's permission will also be placed on the blacklist.