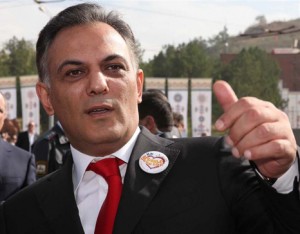 YEREVAN — Yerevan's controversial Mayor Gagik Beglarian was forced to step down on Wednesday after reportedly beating up a member of President Serzh Sarkisian's staff.
The resignation was announced by the Mayor's Office just hours after Sarkisian effectively confirmed and condemned through a spokesman Beglarian's involvement in the assault on Aram Kandayan, an official at the presidential administration's protocol unit.
According to media reports, Kandayan incurred the ire of Beglarian after asking the latter's wife not to sit next to Sarkisian during the November 3 concert in Yerevan of Placido Domingo, the world-famous Spanish tenor. Such seats have traditionally been reserved for Armenia's prime minister, parliament speaker and the supreme head of the Armenian Apostolic Church.
Beglarian, who did not attend the concert, allegedly drove Kandayan to one of his properties in Yerevan and beat up the young official there the next day. Reports claimed that Sarkisian was infuriated by the incident and demanded an official apology from the mayor.
"Unfortunately, an incident did take place," the presidential press secretary, Armen Arzumanian, told RFE/RL's Armenian service. "But the media have exaggerated it. In particular, there was no kidnapping or brutal beating."
"The president has repeatedly made clear his position on such deeds," said Arzumanian. "Namely, such a conduct is unacceptable and intolerable. The more so in the case of a state official."
Beglarian became Yerevan's first elected mayor in more than a decade after leading the HHK to a landslide victory in disputed municipal elections held in May 2009. The 46-year-old businessman, who is also known to many Armenians as "Black Gago," had previously governed the Armenian capital's central administrative district.
Beglarian has long held sway in a largely blue-collar section of the district notorious for election-related violence against opposition activists. Armenian opposition groups have for years accused him of heading a local clan that rigs elections and bullies the government's political opponents. In particular, they implicated him in a December 2009 assault on more than a dozen young activists of the opposition Armenian National Congress.