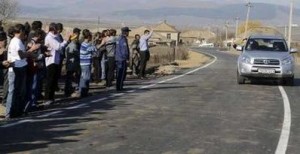 AKHLKALAKI — Georgia inaugurated new road in its southern regions on November 15, rehabilitated as part of the U.S. aid program, which, Georgian President Saakashvili said, was "a historic" road ending "an actual isolation" of Samtskhe-Javakheti region from rest of Georgia.
The road, which starts from south of Tbilisi, runs through Kvemo Kartli region to Akhalkalaki in Samtskhe-Javakheti region, where it branches off to the Turkish border (to already existing Kartsakhi border crossing point) and to the Armenian border. The road by-passes Georgia's main east-west highway and is shorter route to reach southern parts of Samtskhe-Javakheti region from Tbilisi.
USD 209 million was spent on two-year rehabilitation works on the road with total length of 224 kilometers – the largest portion of the U.S. aid program to Georgia in frames of Millennium Challenge Account.
The opening ceremony took place on Monday during which Saakashvili addressed thousands of local residents of Akhalkalaki, a predominantly ethnic Armenian populated town, saying at the outdoor rally that it was "a historic day for the entire Georgia."
He said that three roads of key significance were built in Georgia in last couple of centuries; the one known as Georgian Military Road, which in its present form was built in 19th century to link Transcaucasus with the rest of Russian Empire; the second road, he said, was built through Roki Tunnel about twenty five years ago to link Russia's North Ossetian Republic with South Ossetia and the third is this 224km-long roadway which will enable travelers to get to Tbilisi within 2.5 hours instead of 8 hours before renovation.