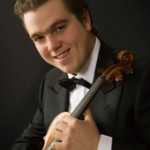 By: Marie Gullard
Special to The Examiner
October 20, 2010 Baltimore Symphony Orchestra Director of Artistic Operations Matt Spivey issued a statement Tuesday that will affect Thursday's performance of the Shostakovich Violin Concerto No. 1 at the Music Center at Strathmore.
Due to a sudden back injury, the Baltimore Symphony Orchestra regrets to announce that violinist Midori has cancelled her upcoming engagement to perform with the BSO in the concerts on Thursday, Friday and Saturday," the statement read. "Conductor Gilbert Varga is still scheduled to lead the program."
Midori also expressed her regret.
"I'm so disappointed to miss the opportunity to play with the Baltimore Symphony Orchestra and Maestro Varga," she said. "I greatly appreciate the graciousness and understanding of the BSO, and look forward to re-scheduling our collaboration at the earliest opportunity."
In her place, the BSO will welcome Russian-Armenian violinist Mikhail Simonyan, who will perform his BSO debut.
Simonyan, still in his early 20s, is already recognized as one of the most celebrated talents of his generation, and as a Russian native who began his studies at the age of 5, he brings to the Shostakovich Violin Concerto No. 1 an inherently special understanding of the genius of his fellow Russian composer.
The New York Times has said that Simonyan's "breadth, lyricism and fleet technique" have earned him early international acclaim and performance opportunities with some of the world's most famed orchestras.
In addition to the Shostakovich Violin Concerto, conductor Varga will be making his own BSO debut. Under his baton, the BSO will also perform Glinka's "Ruslan and Ludmilla Overture" and Stravinsky's "Petrouchka."
Where the last-minute replacement for Midori is concerned, Spivey has only praises for the talent of Simonyan.
"He has won countless international competitions, headlined at the most prestigious concert halls and has already made a name for himself through well-received recordings — and all this before age 25!" he said.
Read more at the Washington Examiner