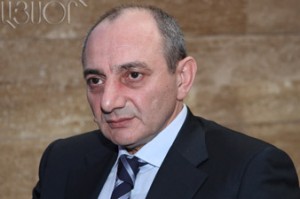 On 7 October President Bako Sahakyan received co-chairs of the OSCE Minsk Group Robert Bradtke (USA), Igor Popov (Russian Federation), Bernard Fassier (France) and accompanying them experts, who arrived in the Artsakh Republic within the frameworks of the field assessment mission of the Minsk Group Co-Chairs, Central Information Department of the Office of the NKR President reported.
Issues related to the conduct of the mission were discussed during the meeting. The NKR President noted that in Artsakh all conditions were created for carrying out the activities on a proper level.
The interlocutors touched upon the second phase of the field assessment mission to be carried out on Azerbaijani-occupied territories. In this context President Sahakyan noted that the Artsakh authorities anticipate constructive approach also on the part of Baku for successful realization of the mission in the occupied territories of Shahoumyan, Getashen, Martakert and Martouni.
Recent developments in the Karabakh peace process were also discussed during the meeting. The President noted that Azerbaijan's constant anti-Armenian propaganda and destructive steps greatly hinder resolution of the conflict, calling on Co-Chairs to respond adequately.