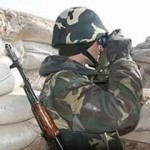 Baku is again aggravating the situation in the Nagorno-Karabakh conflict zone on the threshold of an Armenian-Azerbaijani-Russian presidential meeting.
According to a release by the Defense Ministry of NKR, Harut Ashot Grigoryan, 20, a temporary military soldier, was killed by Azerbaijani armed forces at 4:45 p.m. on October 26 at the Martakert positions of the line of contact.
This is not the first act of sabotage by the Azeri side on the threshold or immediately after the Armenian-Azerbaijani presidential meetings.
In June 18, a day after the Armenian-Azerbaijani-Russian presidential meeting in Saint Petersburg, Russia, the Azerbaijani side committed an act of sabotage near Chailu. Four Armenian soldiers were killed and four injured.