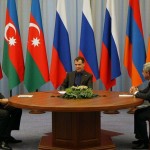 MOSCOW — Armenia and Azerbaijan agreed at a summit in Russia Wednesday to swap prisoners of war and exchange the bodies of soldiers killed in their conflict over the Nagorny Karabakh region.
Russian President Dmitry Medvedev announced the deal to "urgently exchange prisoners of war and carry out the return of victims' bodies" after meeting in the city of Astrakhan with Serzh Sarkisian, and Ilham Aliyev.
There was, however, little sign of progress in resolving the two countries' longstanding conflict over Karabakh, though Medvedev expressed hope that an agreement on the basic principles of a peace deal could be reached by early December.
Medvedev said the prisoner-exchange deal was aimed at "strengthening trust" between the two sides.
"It is very important," he said in comments released by the Kremlin. "The two sides have not been in direct, open confrontation for a long time, but there are problems, there is shooting, people are dying."
Medvedev said he hoped the two countries could agree on the first step in resolving the conflict — a deal on the basic principles of a resolution — in time for a summit of the Organisation for Security and Cooperation in Europe (OSCE) in Kazakhstan on December 1-2.
"We have come a certain way, which gives grounds to hope that if the sides work well over the next month… we could reach an agreement on the common principles of resolution," he said.
Azerbaijani defence ministry spokesman Eldar Sabiroglu told AFP that two Azerbaijani soldiers and the bodies of two soldiers were currently being held in Armenia.
Armen Kaprielian, a representative of Armenia's state committee on prisoners of war, told AFP that six Armenian soldiers and one civilian captured in the last two years were being held in Azerbaijan.
He also said that Armenia was holding three Azerbaijani prisoners and that Armenia did not have any bodies of Azerbaijani soldiers.
A Kremlin spokesman, speaking on condition of anonymity, sought to stress the significance of Wednesday's agreement, even though he acknowledged that the number of soldiers in the exchange would not be significant.
"It is not the quantity that matters," he told AFP. "It is important that people agreed to that."
Tensions over Karabakh have been increasing this year amid the stalled peace talks, with the number of deadly skirmishes along the ceasefire line on the rise for months.
At least 20 soldiers on both sides have been reported killed in clashes this year, including eight soldiers killed last month alone.