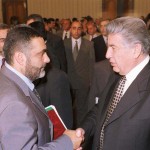 YEREVAN — Armenia marked on Wednesday the 11th anniversary of an armed attack on its parliament that left its prime minister, parliament speaker and six other officials dead and had lasting political repercussions for the country.
Representatives of the ruling party and the opposition laid flowers at the graves of the late Prime Minister Vazgen Sarkisian and parliament speaker Karen Demirchian amid lingering questions about some circumstances of the shootings.
They visited the sites separately, highlighting the division that exists between the government and the opposition in Armenia's domestic politics today. On October 27, 1999, five gunmen led by Nairi Hunanian, an obscure former journalist, burst into the National Assembly chamber and sprayed it with bullets with the stated aim of changing what they denounced as a corrupt and undemocratic government.
The gunmen surrendered to police after overnight negotiations with then President Robert Kocharian. All of them were tried and sentenced to life imprisonment in December 2003. Many in Armenia suspect that the gunmen had powerful sponsors outside the parliament building from high ranking government officials.
Vazgen Sarkisian's brother Aram Sarkisian, who briefly headed the Armenian government after the parliament attack and now is a prominent member of the opposition, told RFE/RL's Armenian service (Azatutyun) on Wednesday that lingering suspicions about the presence of organizers of the crime cast a shadow on those "who gained from it."
"To people for whom Vazgen's absence opened a new door of opportunity," he said.
In an earlier interview with Azatutyun Sarkisian said that the fact that his brother was killed along with Demirchian and other state officials only shows that "it was an act not directed against a concrete person, but against a system representing power."
Slain Prime Minister Sarkisian's mother Greta, brother Armen, the widows of Demirchian and other statesmen killed in the parliament shootout attended special ceremony held outside the parliament building
The widow of Yuri Bakhshian, the parliament's deputy speaker who was killed in the shootings, said that "people who say that the crime has been uncovered discredit the state and cause damage to it."
"The country was beheaded 11 years ago and for 11 years an atmosphere of impunity has been growing in the country, causing great damage to it," Anahit Bakhshian, herself a member of parliament from the opposition Zharangutyun party, told RFE/RL's Armenian service (Azatutyun).