On November 20, U.S. Ambassador Kristina Kvien hosted an event to launch a new Ambassador's Fund for Cultural Preservation (AFCP) Initiative. Through the initiative, the 4th-5th Century Yereruyk Basilica in Shirak Province will be preserved with a $175,000 conservation grant from the U.S. Embassy.
"We are honored that our support through the Ambassador Fund for Cultural Preservation will contribute to the preservation of Yereruyk Basilica, safeguarding this treasure for the world, and making this example of Armenia's unique cultural heritage accessible for future generations," said Ambassador Kvien.
Through the Ambassadors Fund, the U.S. Embassy in Yerevan has provided $1.4 million in funding to support 13 conservation projects since 2005. The Yereruyk initiative will include fortification of the monument's walls, replacement of eroded stones, installation of a drainage system to reroute water, improvement of the monument environment and its preparation as an area for exhibition of the existing monumental stones.
Approximately 50 guests from across the cultural heritage and education sectors attended the launch event. Minister of Education, Science, Culture and Sports Zhanna Andreasyan attended and spoke on behalf of the Armenian government.
Other recent AFCP projects for Armenia include, preservation of Sanahin Monastery in Lori Province, restoration of endangered frescoes at St. Hovhannes Church in Meghri, Syunik Province, and preservation of the Areni-1 Cave in Vayots Dzor. See a complete list of previous AFCP projects in Armenia. Learn more about AFCP.
The event also featured the premiere of the "Awakening" music video by MVF Band, funded by the U.S. Embassy. The band recently traveled to the United States on the U.S. Department of State's Center Stage cultural exchange program. Featuring the song "Awakening", the music video showcased the band performing at Yereruk Basilica, as well as across the United States during their U.S. exchange.
"We are proud to produce this music video to celebrate MVF's U.S. exchange experience and recognize their important efforts to deepen U.S.-Armenia cultural ties" said Ambassador Kvien.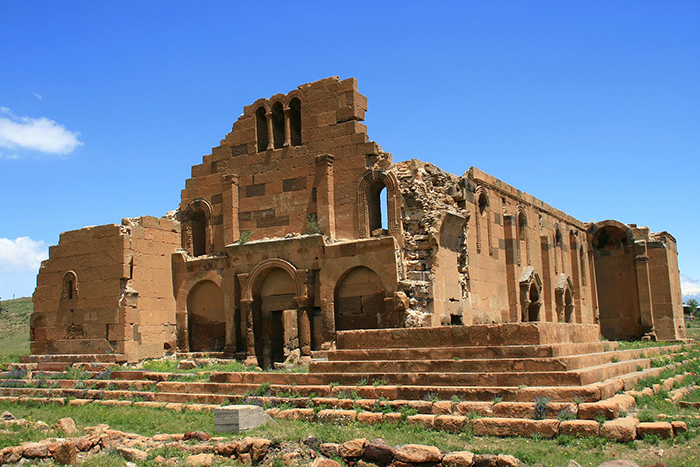 Yererouk is an ancient Armenian church near the village of Anipemza in the Shirak Province of Armenia. Yererouk was built on a plateau near the Akhurian River, which defines the frontier with Turkey, about 5 km southeast of the ancient city of Ani.
The basilica is considered one of the ancient examples of Armenian architecture, belonging to the Paleo-Christian epoch (4th–6th century). It was initially started in the 4th century, then was postponed in the 5th century and finally completed in the 6th century. Because the basilica isn't mentioned in any historical sources, the dates are hypothetical. However, the most recent studies have analysed the architectural characteristics with stratigraphic tests, the study of the sculptural decoration and epigraphy, the comparation with similar churches in Syria.
Because the basilica of Yererouk is one of the earliest surviving Christian monuments in Armenia, it was added to the UNESCO World Heritage Tentative List on August 25, 1995, in the Cultural category.