YEREVAN — At least 11 people were killed and nine others injured in an overnight collision of a passenger minibus and a truck in Armenia.
The Rescue Service of Armenia's Interior Ministry said the collision occurred on the 90th kilometer of the Yerevan-Gyumri highway just after midnight on August 14.
It said a Volkswagen van carrying passengers collided with a ZIL truck on the section near the village of Lanjik.
Six people injured in the crash were hospitalized in Gyumri, a local medical center said, adding that one patient was later transferred to a hospital in Yerevan.
Deputy director of the Gyumri Medical Center Armen Khachatryan told RFE/RL's Armenian Service that the five patients were in a critical condition and their lives were in danger.
The Health Ministry later said that one person hospitalized in Yerevan was also in a serious condition, while three others taken to a medical center in the Armenian capital had sustained only light injuries and were discharged from the clinic shortly after they had been examined and received treatment.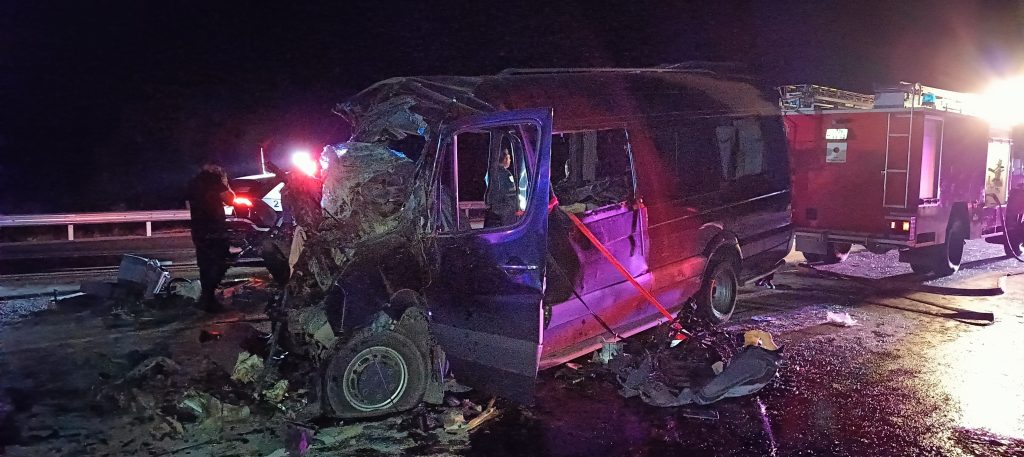 According to relatives of the victims, they were returning from Turkey where they had visited historical Armenian sites.
Investigators were reportedly working on the scene early on Monday to establish the circumstances of the traffic collision. No other information was reported immediately.
The Investigation Committee said later criminal proceedings had been instituted in connection with the case.
Meanwhile, Armenian Prime Minister Nikol Pashinyan expressed condolences to the families of all victims stating that he was shocked by the news of the tragic car.
"The issue of road safety is among the priorities of the government's agenda. Due to the ever-increasing number of cars, in 2022 the number of traffic accident victims decreased compared to 2021," PM Pashinyan said said in a Facebook post.
"According to preliminary information, the two cars involved in the accident in Shirak province had both a technical inspection certificate and an insurance contract, the drivers had valid driving licenses. Investigation will give answers to the rest of the questions," he added.
"In order to increase the level of road traffic safety, additional steps are being taken and will be taken, including through more consistent introduction and control of technical and road standards," the Prime Minister said,