STEPANAKERT — Azerbaijani authorities have kidnapped and detained a 68-year-old patient who was being evacuated by the International Committee of the Red Cross (ICRC) from Nagorno-Karabakh to Armenia for treatment, according to Nagorno-Karabakh (Artsakh) State Minister Gurgen Nersisyan on Saturday.
The patient, Vagif Khachatryan, is a citizen of Nagorno-Karabakh. He has been taken to another location by Azerbaijani authorities.
Nersisyan stated that a representative of the ICRC is currently with the detained citizen. "At this moment, the ICRC representative is with our citizen, but the negotiations haven't produced any results so far. We are waiting for new information," Nersisyan said.
Armenian MFA Spokesperson Ani Badalyan referred to the abduction of the 68-year-old Armenian near the Lachin corridor by Azerbaijan. She expressed her concern in a tweet, saying, "Troubled by the news that a 68-year-old patient, being transported from Nagorno-Karabakh to Armenia for medical treatment, accompanied by ICRC, was abducted at an illegally installed checkpoint by the border guard service of Azerbaijan. Abduction of a person under international humanitarian protection is a flagrant violation of international humanitarian law."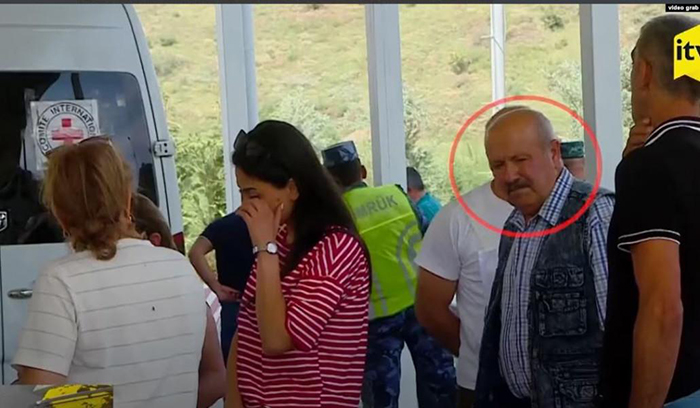 Other patients have been evacuated to a hospital in Goris by a Red Cross representative who arrived from Goris. The evacuation was carried out via the same route. However, the planned return of those who have completed treatment in Armenia has been cancelled.
Nersisyan revealed that the Azerbaijani authorities have always tried to obstruct ICRC medical evacuations by imposing new conditions, and this latest move is yet another step to instill fear in people about using the Lachin Corridor, even for essential healthcare purposes.
Azerbaijani authorities have announced that Khachaturyan is being transferred to Baku to face "a criminal case initiated by the Prosecutor's Office of Azerbaijan on December 22, on facts of genocide, deportation of Azerbaijanis, destruction, and damage of state-owned property by members of illegal Armenian armed groups on December 22, 1991, in the village of Meshali, Khojalyu region."
According to the report, Azerbaijani law enforcement officials accuse Khachaturian of a number of serious crimes, including "carrying out an armed attack on a village, as a result of which 25 Azerbaijanis were killed," according to the General Prosecutor's Office of Azerbaijan.