YEREVAN — AMAA's Khoren and Shooshanig Avedisian School Principal Melania Geghamyan's farewell message to the seventh graduation of the School was touching. And in general, the 2022-23 academic year's graduation ceremony, held on June 12, was full of love, exciting moments, special and unique, where representatives of the Armenian Missionary Association of America (AMAA), philanthropists, leaders of Yerevan universities and schools, parents, and former graduates participated as honored guests.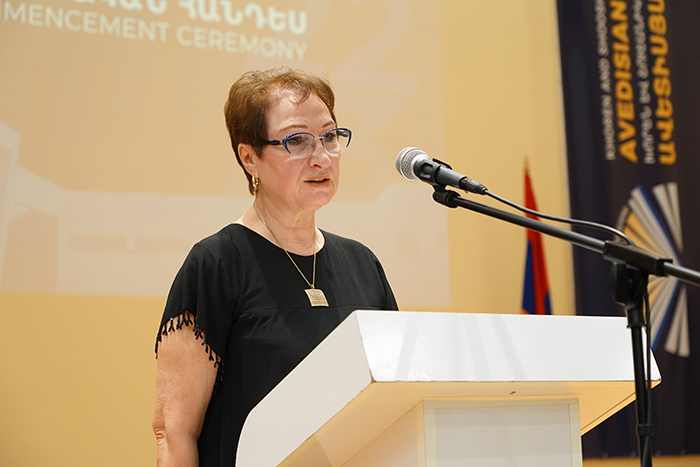 Following the Principal's message, a video presentation dedicated to the late and generous benefactor of the School, Edward Avedisian, was shown. It was impossible to watch the video and hear the gentle and kind voice of dear Ed on the screen without being emotional. Everyone's eyes were directed to the philanthropist's widow, Mrs. Pamela Avedisian, who, not breaking the tradition founded by her beloved husband, "continues walking in Edward's footsteps toward Yerevan, to the Avedisian School."
AMAA Representative in Armenia Aren Deyirmenjian's message was meaningful advice to the young graduates on the threshold of a great life.
The graduation's Keynote Speaker was former Human Rights Defender of the Republic of Armenia Arman Tatoyan. His message was a challenge to become a wall of knowledge facing the Motherland.
Valedictorians Nare Bagratunyan, in brilliant English, and Maria Petrosyan, in perfect golden Armenian, delivered words of gratitude.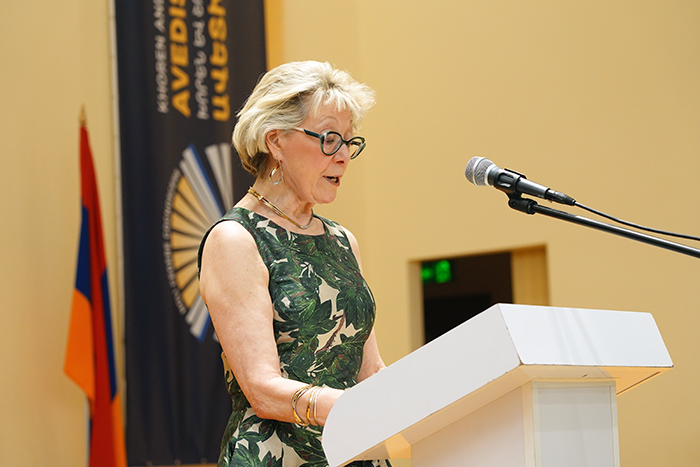 The highlight of the event was the speech by Mrs. Avedisian. Mrs. Pamela or, as the students of Avedisian call her dearly, dear Pam, spoke, told, and said the words of her heart… in Armenian… a bright proof of love and warmth… "Dear graduates, today, one hundred times or more, we wish a good march. We believe that it will be so. And let the sky above you be cloudless, and the horizons always open and be inviting."
During the Ceremony, the "Paros" Chamber Choir (director: Raffi Mikayelyan) performed the favorite tunes of the late Edward Avedisian, and RA honored artist, conductor Sergey Smbatyan's Orchestra of talented youth, composed of scholarship recipients of "Music For the Future" cultural fund with a few musical selections.
The graduates received diplomas under the flags of Republic of Armenia and Avedisian School followed by much applause. After the "classic" hat-throwing ceremony, Rev. Hovhannes Hovssepian, Senior Pastor of the Evangelical Church of Armenia, offered the Benediction.
This year's Graduation Ceremony went according to all the "rules," but the emotions shown were very different than usual due to the passing of Edward Avedisian.