WASHINGTON, DC — The Armenian and Azerbaijani foreign ministers began on Tuesday a new round of U.S.-mediated negotiations focusing on a peace treaty between the two South Caucasus states.
U.S. Secretary of State Antony Blinken attended the opening session of the talks in Arlington, Virginia after holding separate meetings with Armenia's Ararat Mirzoyan and Azerbaijan's Jeyhun Bayramov.
The talks continued in a bilateral format. The U.S. State Department spokesman, Matthew Miller, said on Monday that they will likely last for three days.
"We continue to believe that peace is within reach and direct dialogue is the key to resolving the remaining issues and reaching a durable and dignified peace," Miller told a news briefing in Washington.
Mirzoyan and Bayramov reported major progress towards the peace treaty after meeting outside the U.S. capital for four consecutive days in early May. Armenian Prime Minister Nikol Pashinyan and Azerbaijani President Ilham Aliyev held three face-to-face meetings in the following weeks.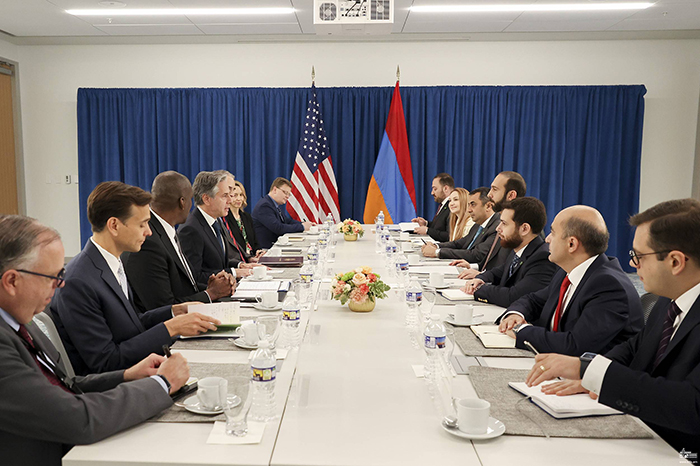 Mirzoyan and Blinken held a separate meeting,  during which regional security and stability issues were discussed. The interlocutors touched upon the normalization process of relations between Armenia and Azerbaijan.
The importance of the following issues was stressed: ensuring the delimitation process between Armenia and Azerbaijan based on the Alma-Ata Declaration and the map of 1975, withdrawal of the troops from the border, as well as appropriately addressing the rights and security issues of the people of Nagorno-Karabakh as an important factor for the lasting peace in the region.
The interlocutors also exchanged views on issues of unblocking the region's transport infrastructure.
Ararat Mirzoyan briefed upon the humanitarian crisis resulting from the illegal blockade of the Lachin corridor. Minister Mirzoyan emphasized the imperative for Azerbaijan to renounce warmongering rhetoric as well as to release all Armenian prisoners of war.