WASHINGTON, DC — The foreign ministers of Armenia and Azerbaijan met in Washington on Monday for another round of talks hosted by the United States that are aimed at hammering out a peace agreement between the two South Caucasus nations locked in a protracted conflict over Nagorno-Karabakh.
Before their meeting Armenia's Ararat Mirzoyan and Azerbaijan's Jeyhun Bayramov met separately with U.S. Secretary of State Antony Blinken, who had earlier expressed Washington's continued support for the Armenia-Azerbaijan peace efforts.
Blinken then met the two visiting ministers together before what was expected to be their bilateral peace negotiations.
In a brief statement on the Blinken-Mirzoyan-Bayramov meeting Armenia's Foreign Ministry said late on May 1 that "issues of the security situation in the region and the process of normalization of relations between Armenia and Azerbaijan were discussed."
"The humanitarian situation resulting from the illegal blockade of the Lachin corridor by Azerbaijan was addressed," the ministry added.
The readout on the meeting released by the Azerbaijani side did not have any mention of the Lachin corridor issue.
A senior U.S. Department of State official told RFE/RL's Armenian Service on May 1 that Mirzoyan-Bayramov negotiations in Washington will last for "several days."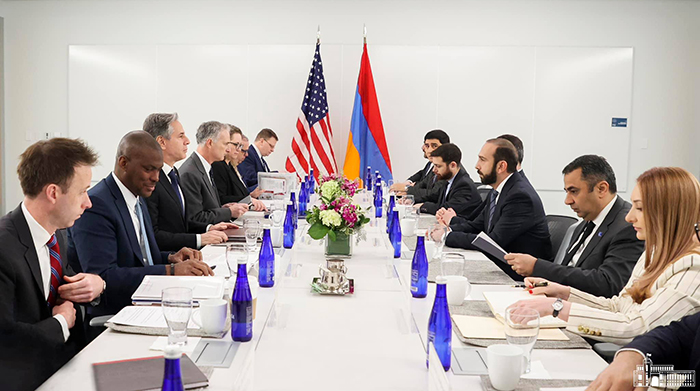 In weekend phone calls with the leaders of Armenia and Azerbaijan Blinken reportedly pledged Washington's continued support for the two countries' peace efforts.
In his phone call with Armenian Prime Minister Nikol Pashinyan he reiterated that "direct dialogue and diplomacy are the only path to a durable peace in the South Caucasus" and "expressed his appreciation for the Prime Minister's continued commitment to the peace process."
Talking to Azerbaijani President Ilham Aliyev, Blinken "shared his belief that peace was possible" and "expressed the United States' deep concern that Azerbaijan's establishment of a checkpoint on the Lachin corridor undermines efforts to establish confidence in the peace process, and emphasized the importance of reopening the Lachin corridor to commercial and private vehicles as soon as possible."