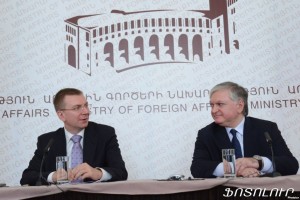 YEREVAN — Armenian Foreign Minister Edward Nalbandian has reiterated Yerevan's position that negotiations with Azerbaijan over Nagorno-Karabakh should continue around a set of key principles proposed by international mediators in recent years that he implied have not been finalized yet because of Baku's unconstructive approach.
Nalbandian made the statement at a joint press conference with the visiting Latvian foreign minister, Edgars Rinkevics, on Thursday when responding to a media question on the idea "recently floated" in Azerbaijan concerning a new "roadmap" for the Nagorno-Karabakh settlement.
Such views in Azerbaijan are likely to have followed the latest attempt by international brokers to restart the Armenian-Azerbaijan peace talks that stalled last summer.
The Karabakh negotiation process came to a standstill after a series of deadly border skirmishes and especially in the wake of the controversial pardoning in Azerbaijan of Ramil Safarov, a convicted killer of an Armenian serviceman who was handed over to Baku by Hungary more than two months ago.
Speaking at the press conference Foreign Minister Nalbandian brushed aside the assumptions that a new "roadmap" implying a phased solution could help the process. He said he had the impression that "the authors of this proposal have stuck on the information level typical of the 1990s."
"Seventeen years have passed since 1995, the train has left the station, but some in Azerbaijan are still standing on the platform," said the top Armenian diplomat, speaking figuratively about the history of the peace process.
He stressed that a "roadmap" regarding some of the key principles of conflict settlement had already been presented to the sides by the international community.
"But we couldn't make progress at the Kazan summit as Azerbaijan rejected these proposals," charged Nalbandian, referring to a set of basic principles that Armenia believes are anchored on the combination of the right of Karabakh Armenians to self-determination, Azerbaijan's territorial integrity and the nonuse of force or threat of force in resolving the conflict.
"I don't think that the idea of the Azerbaijani side regarding a new roadmap may be serious, especially when the matter concerns a roadmap that emerged 17 years ago," Nalbandian said.
The Armenian foreign minister also referred to the statements issued by the leaders of the Minsk Group co-chair countries from the recent G8 and G20 summits urging the parties to the conflict to make progress towards agreeing on the basic principles of Karabakh peace.