YEREVAN — Armenian Prime Minister Nikol Pashinyan says the issue of his country's external security remains "unresolved," calling the situation "a major challenge for the country."
Pashinyan told a press conference in Yerevan on March 14 that an ongoing exchange of peace proposals between Armenia and Azerbaijan indicates some progress in the Yerevan-Baku peace talks, but stressed that the "further we move, the more fundamental problems we face."
"Azerbaijan is trying to outline territorial demands and intentions toward Armenia, which is a red line for us," Pashinyan said, emphasizing that the possibility of military escalation along the Armenian-Azerbaijani border and in Nagorno-Karabakh is very high.
"The implementation of the future peace deal must be guaranteed. Proposals that may solve the issue are possible," Pashinyan added.
Pashinyan also reacted to a statement by parliamentary factions of Nagorno Karabakh that demanded from Yerevan "not to question" their right to self-determination.
"We have said and keep saying that the issue of the Nagorno-Karabakh people's rights and security is extremely important to us," he said. "That is one of our key goals."
"It's up to the people and the government of Nagorno-Karabakh to decide the framework of the Nagorno-Karabakh people's rights and security," added Pashinyan.
The prime minister charged at the same time that Baku is seeking a "mandate to perpetrate genocide or ethnic cleansing in Karabakh."
Pashinyan said that during his recent talks with Russian President Vladimir Putin he stressed that "there are problems" in the part of Nagorno-Karabakh that is under the control of Russian peacekeepers.
"Russia is the guarantor of security of Nagorno Karabakh under the terms of the 2020 agreement and Nagorno Karabakh won't need to maintain a Defense Army of the present-day size if the threat of genocide by Azerbaijan were not to exist", Prime Minister Nikol Pashinyan said.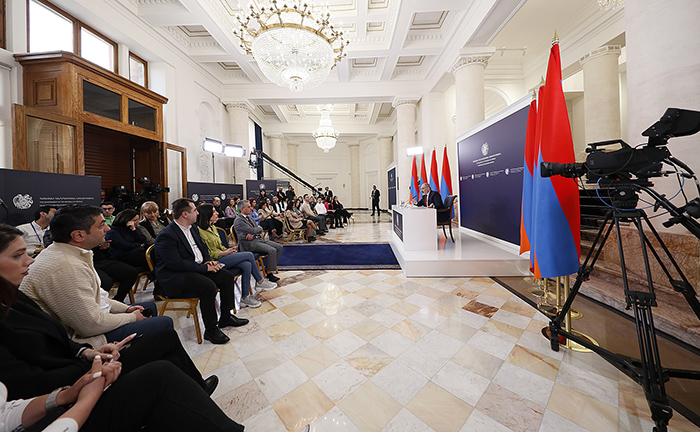 Talking about Yerevan's decision last week not to seek the post of the deputy Secretary General of the Collective Security Treaty Organization (CSTO), which also comprises Russia, Belarus, Kazakhstan, Kyrgyzstan, and Tajikistan, Pashinian said Armenia continues to work with the group.
Pashinian said that Armenia is not moving toward quitting the CSTO, but instead it is the "CSTO that is quitting Armenia willingly or unwillingly."
Armenia's economy grew by 12.6% in 2022, the highest growth recorded over the last 15 years, Pashinyan said at the press conference.
He said tax revenues last year totaled 1.926 trillion drams, an increase of 768 billion drams ($2.02 billion or 66.3%) from 2017 and an increase of 670 billion drams ($1.82 billion or 53%) from 2018.
"In 2022 December we saw an exceptional record of 704,000 officially registered jobs. This means that from May 2018 until now some 156,431 new jobs have been created in Armenia," he said.