YEREVAN — Former NATO Secretary General Anders Fogh Rasmussen urged the European Union to pressure Azerbaijan to end its inhuman blockade of Nagorno-Karabakh during a visit to Armenia on Tuesday.
He met with the country's leaders before visiting an Armenian border checkpoint at the entrance to the Lachin corridor that has been blocked by Azerbaijani government-backed protesters for the last three months.
Rasmussen also toured the Armenian resort town of Jermuk which was shelled by Azerbaijani troops during last September's heavy fighting on the Armenian-Azerbaijani border. He told reporters that he wanted to "watch with my own eyes the impact of Azerbaijan's aggression against Armenia."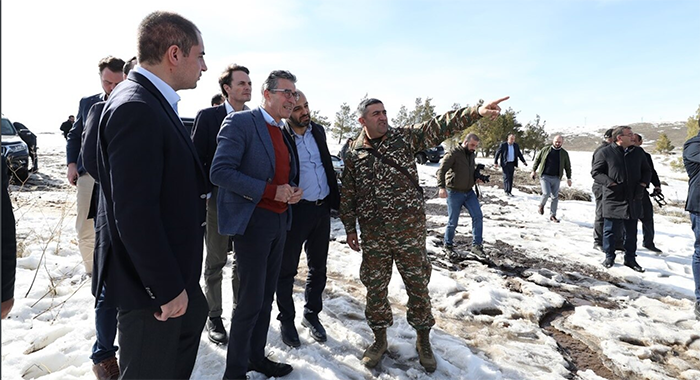 Rasmussen, who headed NATO from 2009-2014, went on to condemn the Azerbaijani blockade of the sole road connecting Karabakh to Armenia.
"The blockade … means there is a lack of food and life-saving medicine in Nagorno-Karabakh," he said. "We are faced with a humanitarian crisis that could develop into a humanitarian catastrophe."
"That is why I send a very clear message today to President [Ilham] Aliyev of Azerbaijan: dissolve the blockade today immediately," added Rasmussen.
The EU, he said, must put "maximum pressure" on Baku for that purpose.
"The European Union has made an energy deal with Azerbaijan, and that could be used as a platform for critical dialogue with the government of Azerbaijan," he said. "It may be that President Aliyev is an autocrat like [Russian] President Putin, but I believe that President Aliyev would not like to be put into the same position to become an international pariah like President Putin."
Rasmussen, who had also served as Denmark's prime minister from 2001-2009, visited Armenia in his capacity as the founder of Rasmussen Global (RG), a European political consultancy advising governments and corporations. It is not clear whether the Armenian government is now among its clients.
The former NATO chief met with Prime Minister Nikol Pashinyan, Defense Minister Suren Papikyan and the secretary of Armenia's Security Council, Armen Grigoryan, on Monday. He said he arrived in the South Caucasus at the invitation of its government to help boost its ties with the West.
"It's our intention to have very strong cooperation with the government of Armenia," Rasmussen said, adding that RG will specifically seek to enhance Yerevan's "political dialogue" with the EU.