When a 37-year old female patient with a challenging breast scar consulted with Dr. Raffy Karamanoukian in late February, the Los Angeles plastic surgeon knew he was faced with a difficult reconstructive challenge. The patient had undergone close to five attempts to correct a breast deformity that was originally caused by another plastic surgeon ten years prior. Despite countless consultations with plastic surgeons, no surgeon was willing to assume her care.
"All attempts to reconstruct the patient's breasts had ended up in failure," adds Dr. Karamanoukian, "…so the next logical step was to think outside the box."  That is when the board-certified US plastic surgeon spoke with Artsakh microsurgeon Dr. Igor Zakaryan, Chief of Plastic Surgery at Central Republic Hospital in Stepanakert. "Despite the Lachin Corridor blockade, Dr. Zakaryan was eager to assist," notes Dr. Karamanoukian.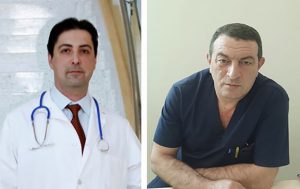 For almost a decade, these expert surgeons have managed to keep close ties to one another after having operated together in Stepanakert in 2013 and 2014. Both surgeons have contributed to healthcare initiatives in Artsakh Republic in the fields of plastic surgery and microvascular surgery.
The two surgeons diligently reviewed the case online and through multiple telephone consultations; and eventually developed a reconstructive plan that utilized a more obscure surgical technique that was used in reconstructive surgery decades before. "The delayed-flap technique was instrumental in post-war reconstructive efforts since World War II, but it is a procedure that still has limited applicability," says Dr. Igor Zakaryan. "We chose the technique because every other modern technique had essentially failed."
Two weeks after her initial consultation, the patient underwent a successful staged operation that helped reconstruct the painful wounds of prior botched plastic surgery. The patient's prognosis is quite positive, as we have achieved success in the first phase of reconstruction," adds Dr. Zakaryan. "Having endured years of war, the surgeons in Artsakh are ready and willing to collaborate on an international level."