YEREVAN — In a phone call with U.S. Secretary of State Antony Blinken today, Armenian Prime Minister Nikol Pashinyan discussed several issues related to the humanitarian crisis in Nagorno-Karabakh caused by Azerbaijan's blockade of the Lachin corridor, which is the only road linking Nagorno-Karabakh with Armenia and the rest of the world,
According to the Armenian government's press service, Pashinyan and Blinken exchanged views on the prospects for normalizing Armenian-Azerbaijani relations and reopening communications in the region.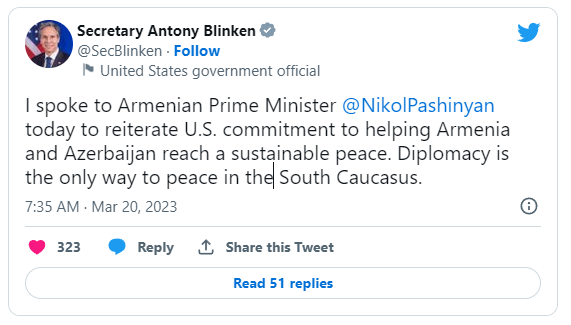 Blinken reiterated his call for the immediate reopening of the Lachin corridor and stressed that the U.S. is prepared to continue supporting these efforts.
During the phone conversation, Pashinyan expressed concern about Azerbaijan's recent escalation of aggressive rhetoric.